Cisco profits drop, spirits rise
Hello video & sports, g'bye HP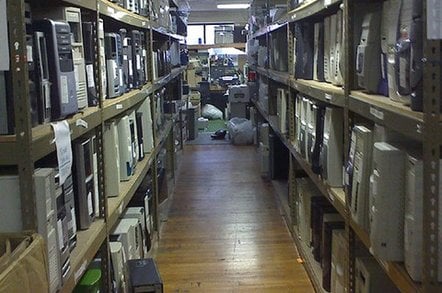 Cisco reported double-digit drops in both sales and net income for its third quarter of fiscal 2009 on Wednesday, but you'd never know it from the glowing optimism of its skipper.
In a conference call with reporters and analysts, the company's chairman and CEO, John Chambers, sounded more relaxed and upbeat than might be expected for an executive who had just piloted his company down from a net income of $2.3bn (£1.5bn) in Q3 2008 to $1.8bn (£1.2bn) in Q3 2009 - a 24.1 per cent drop - and net sales down 16.6 percent from $9.8bn (£6.5bn) to $8.2bn (£5.4bn) in the same periods.
Despite those numbers, Chambers remained undaunted. "Cisco delivered solid financial performance despite a challenging global economy and period of evolving market dynamics," he said in a prepared statement. "As we exit the quarter with a compelling financial position...we believe we are well-positioned for the eventual economic recovery."
And although he admitted that "No one knows for sure when the upturn will occur," Chambers reported that in his dealings with customers he's starting to see optimism reappear. Or, at minimum, panic disappear.
"For the first time in many quarters," he said, "many of our global customers are describing a business momentum in a different way than in the prior quarters - that they are seeing some stabilization, a leveling-out. In other words they are finally beginning to have something reasonably solid beneath their feet."
When asked how the world was going to lift itself out of its financial doldrums, Chambers said that it was the US's job to lead the way.
Talking about his recent worldwide conversations with customers and governments, he said "While people might have said that the global economy can come back and the US can perhaps follow coming out, most government leaders and business leaders now say that it has to be the US coming out of it for them to return to reasonable numbers."
And Chambers sees Cisco playing a big part in that coming-out party.
Calling Q3 2009 "the most innovative and operationally efficient quarter in our history," Chambers said that Cisco had recently had "an explosion of collaboration" both inside the company and with customers, and that those customers are expressing their "understanding and in many cases their commitment to next-generation intelligent networks becoming the platform for productivity, standard of living, and global competitiveness."
Describing what made Q3 2009 "most unique," Chambers cited Cisco's recent work in virtualization, the Unified Computing System, telepresence, the still-amorphous "smart grid," the equally amorphous "smart connected communities," and sports and entertainment.
Characterizing that latter category as "an area that might surprise you," Chambers revealed that he held a meeting during the quarter with over 40 sports teams, including participants at the commissioner level, with representatives from major-league baseball, basketball, American football, and hockey. The goal: "changing the fan experience," first in sports stadiums and then "all the way to he home."
Chambers is also bullish on Cisco's move into consumer-level video. "Make no mistake about it," he insisted, "we will have an end-to-end architecture in the home for video, just like we are developing an end-to-end architecture for video in the enterprise."
The company also reported that it's now sitting on a staggering $33.6bn (£22.2bn) pile of cash - so naturally the subject of acquisitions came up. "We've got a very large war chest and we tend to use it over time," Chambers said. He added, however, that "We wanted to get a little bit of firmness underneath our feet before [we began] to look - and I think what you are seeing is that now occuring." Translation: Expect Cisco to spend some of the $33.6bn in the not-too-distant future.
The topic of acquisitions brought up the related topics of partnerships and competition - and so Chambers was asked about the company's recent moves into areas in which it had formerly partnered with IBM and HP, but now found itself in competition. "While some of your partners in the past will be partners in the future, when you're going into new areas you're going to have different partners as you move into those."
Among the partners that will fit into Cisco's future, Chambers cited Intel, Accenture, Microsoft, EMC, and VMware, among others. Not on his list was HP, which Chambers said will be a competitor - "and that happens." About IBM he said, "There will also be some areas...where you partner at times and compete at times."
Summing up, Chambers said that Cisco's future is bright and that "my comfort level...is extremely strong." This from a man running a company with a net income that's dropped over 24 per cent year-on-year and whose investor guidance for the next quarter projects no appreciable improvement.
Either John T. Chambers really does, as he says, keep his focus "a year or two years out," or he's been carefully studying the Reality Distortion Field techniques of its inventor and past master, Steve Jobs. ®
Sponsored: Minds Mastering Machines - Call for papers now open