We do have a few small complaints, though. We were disappointed to see that the image stabilisation option only works at 720p or lower resolutions, and even then we didn't feel that it made a noticeable difference to the smoothness of the video. The little microphone that is situated on the back of the viewfinder screen is also a little underpowered. It picks up a reasonable amount of audio detail, but the audio playback sounds a bit thin.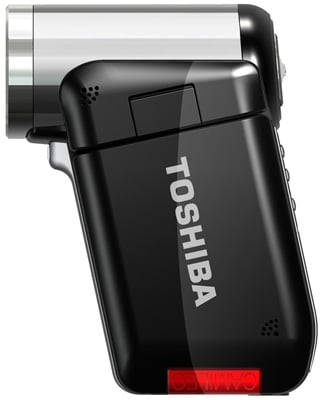 Compact yet versatile, with a decent range of manual controls
Verdict
If all you want is an easy-to-use camcorder for shooting quick YouTube video clips then the 'point and shoot' simplicity and slightly more solid construction of the Flip is still hard to beat. However, if you're a little more ambitious than that, and you want a lightweight camcorder that can shoot longer clips for editing into a proper movie project, then you'll definitely prefer the superior quality and versatility of the Camileo P30. ®
More Camcorder Reviews...

Sanyo Xacti
VPC-HD2000

Pure Flip Mino HD

Ten of the Best...
Pocket Camcorders

Flip Ultra

Toshiba Camileo P30
It could be a bit more rugged, but the compact P30 delivers good video quality at an attractive price.
COMMENTS
Nice spec, but.....
Having used one of these so called full HD 1440x1080p camcorders, the still shots look OK, but the moving shots seem to exhibit a "swaying" motion due to a lack of shuttering. Ironically, their light weight also means they shake more than David Hasselhoff in a rehab clinic.
still, for 140 sheets, thats not bad is it!