Toshiba Camileo P30
Not quite Full HD, but close
Video is encoded in H.264 format and saved as QuickTime .MOV files, so Mac users can import files straight into iMovie. However, PC users will need to install the bundled ArcSoft MediaImpression software in order to play .MOV files - or download QuickTime directly from the Apple website. The ArcSoft program is basic: it allows you to upload clips to YouTube, but it's no replacement for a proper editing program.

Trigger happy: the stylised controls play on the pistol effect
The P30 has the same upright 'pistol grip' design as the original Camileo, although you can also get a model called the H20, which has a similar specification but uses a more traditional 'barrel' design. A 2.5in LCD viewfinder screen folds out of the handle section, and the P30 automatically turns itself on or off when you open or close the screen so you don't even have to pause to press the power button when you're ready to start shooting - although there is a Power button on the handle if you want to use it.
However, the screen did raise some qualms about the P30's build quality. The camcorder's lightweight plastic casing doesn't feel terribly robust, and the thin hinge that connects the screen to the body of the camcorder is a potential weakness.
It's probably fine to carry the camcorder around in your pocket or backpack, but we'd worry about over-eager youngsters – or drunken adults – mistreating the screen section. The nature of a camcorder like this means that it's likely to get dropped or knocked about occasionally, and we'd be happier if the P30 were more solidly built.
The P30 doesn't have the sheer simplicity of the Flip either. The Flip has just a single button for recording video clips and two additional buttons for playing and deleting clips. In contrast, the P30 has a much more complicated set of controls, and using them involved reading the PDF manual closely in order to figure out what they all do and the meaning of the various symbols displayed on the LCD screen.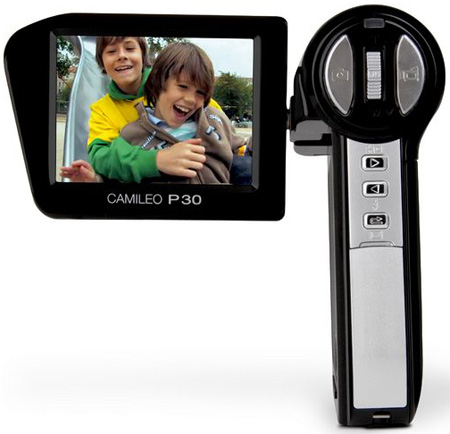 Breaking point: the display's hinge appears somewhat fragile
To be fair, the more complicated controls are partly a reflection of the fact that the P30 has a wider range of features than the Flip – such as video image stabilisation, macro mode and a still-photo shooting mode. However, its controls could still be a bit better organised and more intuitive to use. For instance, there's a button that can be used to change the video resolution, but this button only allows you to switch between 1080p and 848 x 480 (WVGA).
Sponsored: Minds Mastering Machines - Call for papers now open