Our test photographic image includes fine detail in the foreground, bright and shadowed areas in the distance and a large area of gradated sky. The T650DN did well enough with the bright detail, but lost quite a lot in areas of shadow. The sky suffered from the same greyscale problems as business graphics fills, though there was still only marginal evidence of banding.
Although photo printing isn't a major part of the work of any mono laser, it's becoming increasingly important that work machines can reproduce images with reasonable fidelity. This printer is better than a lot, but a smoother toner lay-down is needed to produce really high-quality piccies.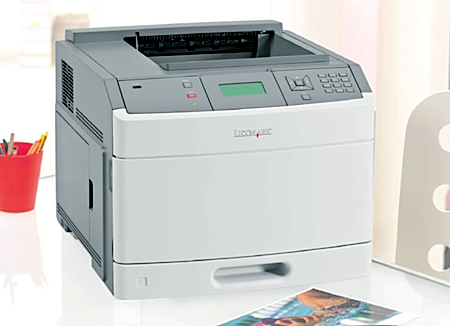 Pencils not included
The Lexmark toner cartridge is an integrated unit containing the photoconductor drum as well as the toner itself. This makes for easy maintenance, and the two available capacities of 7000 and 25,000 pages emphasise that the machine is intended for heavy use. A 7000-page cartridge is provided in the box, but using the more economical 25,000 page cartridge to calculate costs produces a figure of 1.2p inc. VAT per ISO page.
This is a good figure for a printer in this class, so its overall cost should stay low over the lifetime of the machine. The initial purchase price is on a par with the main rivals in this level of print and the only fly in the ointment is the stupidly small main paper tray. Any machine intended for work should be able to take at least a ream of paper at a time.
Verdict
This is a juggernaut of an A4 mono workgroup laser printer but, apart from the size, it's well-designed, gives good economy, is fast and easy to use and has useful features such as walk-up and PIN-code printing. With a 500-sheet paper tray as standard, rather than the paltry 350-sheet one supplied, it would be a winner. ®
More Laser Printer Reviews...
| | | | |
| --- | --- | --- | --- |
| Kyocera Mita FS-2020D | Canon i-Sensys LBP3100 | Samsung ML-1630W | Lexmark E260DN |

Lexmark T650DN mono workgroup laser printer
A robust, workgroup mono laser printer with everything but sufficient paper capacity.
COMMENTS
@JC Small is Beautiful
So, we should all drive buses 'cos there's more room for the engines, should we? Every office has space constraints and, particularly if a printer is to be positioned on a desk, the space it takes up is an important consideration.
Engineering something small may put more contraint on the designer, but there's no intrinsic reason why a smaller printer should be less reliable. The reliability indexes for all the major laser manufacturers are very similar, so companies that are building smaller machines aren't suffering from service-life issues.
As for a bigger printer keeping the paper flatter, that's hogwash. The designed temperature and pressure used in the fuser is by far the biggest factor in paper curl. Whether a machine uses a 'U'-shaped or 'S'-shaped paper path governs the tighness of turns in the paper path much more than the size of the case.
Big
Regarding being big, it was erroneously suggested that is bad.
Bigger size, even if all else were equal which it seldom is, is a very desirable thing.
Bigger means lesser size limitations for gears, springs, plastic tabs, fuser heat dissipation, drum and cartridge size, etc, etc. Smaller means higher heat density, tighter paper path,
In other words, only a stupid fool thinks smaller is better unless it's on an airplane or in some economized oriental hotel slat. This printer was not designed to fit within your back pocket wearing spandex jeans, it was designed to do well as a printer.
Do realize I am not shilling Lexmark, I would rather buy from most other manufacturers than those toner and ink whoring bassturds, but at the same time we need to stop perpetuating the idiotic idea that smaller is better unless you live in a shoebox.
Smaller is never better when it comes to anything mechanical, if all else is equal then smaller is always, always, a negative thing. Especially so when talking about a 2nd element, how much paper will bend in the printer before it remains permanently more curled that you wanted a flat piece of paper to be.
If you want some small cheap junk printer by all means buy one. If you want something not so problematic, you want the largest size per dollar you can find. Per page printing cost is another story, subject to more than one variable like toner capacity, cost whether the drum is integral or not, whether a cartridge is user-refillable, etc.
These things weren't mentioned though, my comment is only addressing detrimental ideal that we are supposed to want smaller as if it is good when it is exactly the problem and thing to avoid.
Paris, because even if you don't live in Texas, smaller is less of a good thing more often than not.