Love on the buses: The S-100 and me
An illustrated affair
Card games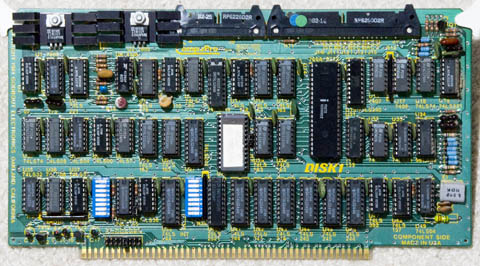 The CompuPro Disk 1 card supports both 8-inch and 5.25-inch floppies
For a floppy controller, I chose the CompuPro Disk 1 (PDF) to manage my dual 8-inch Qume floppies. The Disk 1 could also work with those new-fangled 5.25-inch disks - which (trust me on this one) were called "minifloppies" - but I preferred the eight inchers so that I could be compatible with the eight inchers we had at work.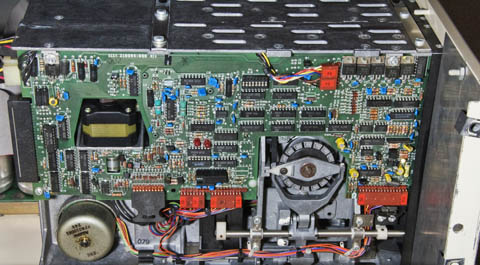 The two 1024KB 8-inch Qume floppy drives are industrial-strength beasts
My Qume drives were of the "double density" variety, meaning that they could store 512KB on each side - a mind-blowing 1028KB per floppy! Who could ever fill that much space?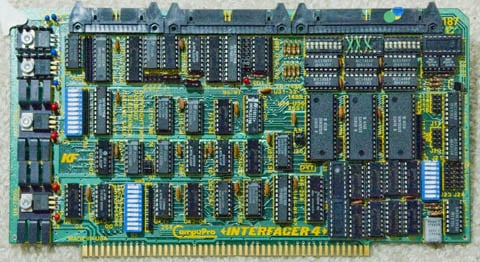 The CompuPro Interfacer 4 I/O card supports parallel, Centronics, and three serial ports
The CompuPro Interfacer 4 enabled me to connect my system to my 80-character-by-24-line Freedom 100 monochrome (green) CRT terminal - and yes, they were called terminals in those days, well before terminals morphed into monitors which morphed into displays. I also hooked up my Epson MX-80 dot-matrix printer through one of the three serial ports.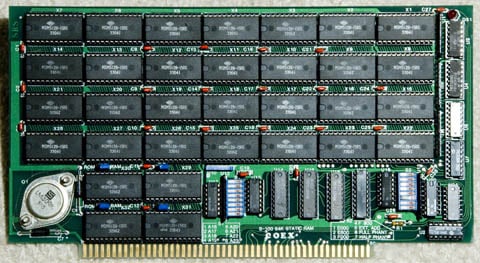 The COEX RAM card: 64KB in 32 chips
Being an eight-bit processor, the 8085 - my usual processor of choice - could directly address only 64KB of RAM. Bill Godbout and his crew had created a Memory Manager scheme that would allow it to access up to 16MB, but that was an unthinkable RAM allotment that would have run many thousands of dollars. For WordStar, SuperCalc, and dBASE II*, my 64KB was plenty.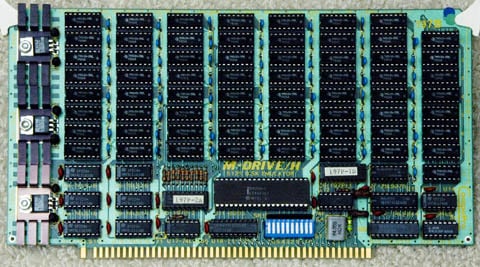 CompuPro M-Drive/H disk emulator: 512KB of virtual-disk luxury
A stroke of great good fortune landed a CompuPro M-Drive/H (PDF) in my lap - and then into an S-100 slot. This pricey item carried 512KB of memory that looked to the system as if it were a floppy drive - although an exceptionally speedy floppy drive. All you had to do was remember to write anything in it back to a physical floppy before you shut your system down.

Theoretically, an S-100 bus doesn't need active termination - but it certainly helps
Finally, the least expensive but most welcome part of my system: a CompuPro Active Terminator card. After I had first assembled my system, I couldn't get it to operate at any decent level of reliability. But then a friend tipped me off to the fact that in S-100's bus topology, signal stability is key. And signal stability could be guaranteed by actively terminating the bus.
The Active Terminator wasn't in the CompuPro catalog at the time, but I assumed they must have had some sort of active-termination device available. So I drove over to the CompuPro headquarters on the grounds of the Oakland Airport, talked to Bill himself, drove home with a $45 Active Terminator card, and lived happily ever after. ®
Bootnote
* George Tate, founder of dBASE II's publishing company Ashton-Tate, simply tacked the pulled-from-thin-air name "Ashton" onto his own to give his company's name some gravitas. Also, there was never a dBASE I - Tate gave his software the "II" suffix for the same reason that he added Ashton to his company's name. Had he been active in the over-hyped 1990s, Tate would have named his software dBASE Pro II Deluxe Studio Premier Gold Edition X.
Sponsored: Minds Mastering Machines - Call for papers now open