Love on the buses: The S-100 and me
An illustrated affair
Let's put this puppy together
The case that I picked out of Byte from the now-defunct XOR Corporation had a beefy power supply to feed its four eight-inch drive bays and S-100 slots. "Bays," however, is overstated - "holes" is more to the point, since you had to supply your own mounting brackets.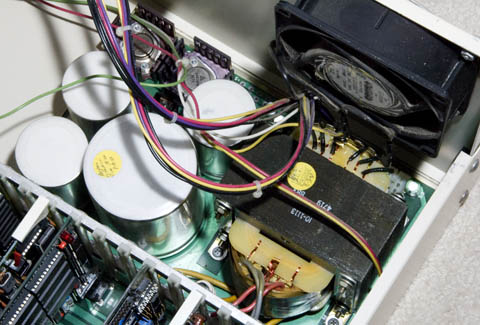 Power is supplied by a huge transformer that feeds equally huge capacitors
The S-100 bus in the XOR enclosure's "card cage" had a dozen slots - a normal amount at the time. I'd seen enclosures with more, and I'd seen enclosures with fewer. Even though I knew I didn't plan to use all the slots, I wanted to leave space for ventilation.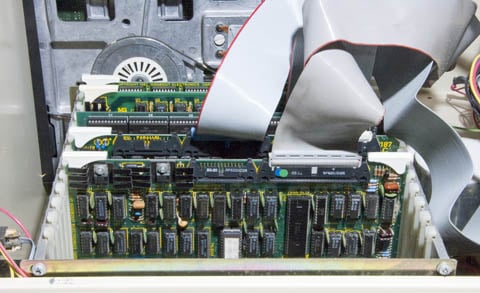 This S-100 bus card cage has room for a dozen cards
Installing cards was a snap - literally. You simply pushed them down into the slots at the bottom of the cage. First, though, you had to dig through opaque manuals and discover exactly how to set the cards' myriad jumpers and DIP switches - and if you don't know what a DIP switch is, consider yourself lucky. And young.
Interestingly, I discovered that the order of the cards affected how well the system ran - latencies and timing issues, I assume. Much of computer assembly in those days was done by the seat of one's pants.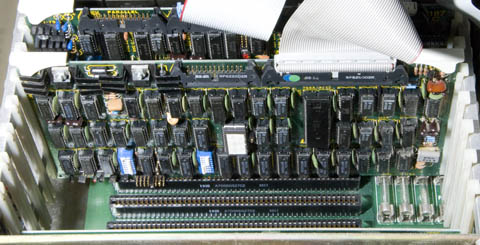 At the base of the S-100 card cage are 100-pin slots
Although there were a number of reputable S-100 card companies in those day - meaning folks who actualy believed in such niceties as warranties - I was partial to Bill Godbout's CompuPro line, having used his machines at work. I could just as easily have gone for cards by Cromemco, California Computer Systems, or some other, but I stuck with what I knew.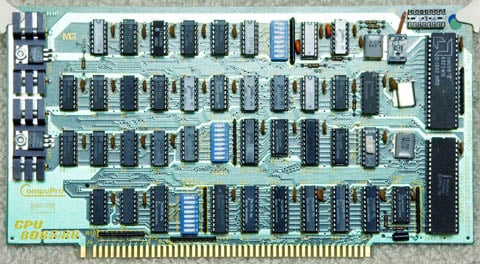 The CompuPro CPU 8085/88 card - pick a processor
The CompuPro CPU 8085/88 (PDF) was a dual-processor card that contained a 16-bit AMD 8088 and an eight-bit Intel 8085. You could switch back and forth between the two in software, thus avoiding popping the case open and setting a jumper every time you wanted to switch.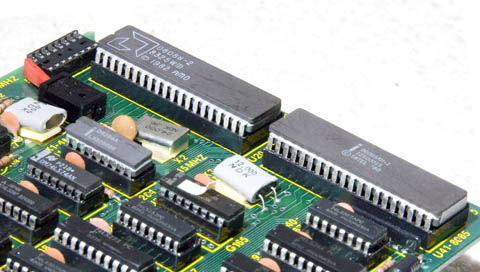 AMD 8088 (left) and Intel 8085 - notice that each chip has just 40 pins
The 8088 was essentially an 8086 that could deal with the eight-bit S-100 bus. Its combination of 16-bit insides with an eight-bit approach to the outside world made it a good chip for the S-100 bus, offering a convenient way to use an eight-bit file system like CP/M 2.2 and still develop 16-bit code.
Sponsored: Minds Mastering Machines - Call for papers now open