Windows 7 — It's like Vista, only less annoying
The mop-up starts now
What's gone
A couple of things have also been removed. In the beta, you could drag a folder to Libraries in Explorer and it would automatically be added as a new library. What you then have is a link to that folder in a central location, which is why libraries are useful. Microsoft then figured that some users would not appreciate the difference between links and copies and would delete the original folder, thus losing their stuff, so drag-and-drop no longer works. Kudos to Microsoft for thinking about the issue, though I suspect the link concept will still trip-up some users.
If you try to add certain kinds of network drive to your library, such as a Linux appliance stuffed with MP3 files, you get a bewildering message stating that the drive cannot be included because it is not indexed. Online help suggests that you could fix this by making it available offline, which copies all the contents locally. Not usually what you want.
There are some changes in security. One is that AutoRun is now disabled on non-optical drives. Mini USB drives with AutoRun worms were one factor in why Conficker spread so quickly, so this feature is long overdue. Another change is that the User Account Control (UAC) settings dialog now runs as a high-integrity process, countering criticism that malicious scripts could otherwise lower your protection automatically.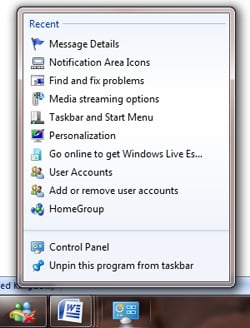 Jump Lists now properly supported
Touch support is enhanced in this release candidate. The touch keyboard supports multi-touch, so that the shift key now works as you would expect. Thumbnail Peek triggers previews when you drag a finger across a Taskbar preview. Press and tap simulates a right-click, when you touch an icon with one finger and tap with another. Still, whether touch Windows takes off remains an open question, depending on support from hardware vendors bitten by lacklustre Tablet PC sales, willingness of customers to pay the premium, and work from application developers who still think in terms of keyboard and mouse.
One thing that has captured a lot of attention has been news of Windows XP Mode. This was not in this particular release and will only be deployed as an add-on or by OEM vendors.
Windows XP Mode is essentially an updated Virtual PC running Windows XP SP3 and will be free for Windows 7 Professional, Enterprise and Ultimate users. There is desktop integration, so you can launch Windows XP applications directly from the Windows 7 start menu or Taskbar and install applications directly from a setup CD or download.
Windows XP Mode is aimed at small businesses with applications that do not work properly on Windows 7 or are incompatible with UAC. USB devices are supported, but it is not suitable for applications that require accelerated graphics. Enterprises are expected to use Microsoft's Enterprise Desktop Virtualization (MED-V), which is being updated for Windows 7.
Why the excitement? Virtualization offers compatibility and potentially removes a key reason for sticking with Windows XP - subject to the limitations of a virtual environment. But there are downsides, such as increased resource requirements and the need to patch your virtual XP as well as Windows 7 with security updates, though Windows update will automate this.
This was the RC - the last, logical step before the finished code is released as product. Microsoft is not saying when Windows 7 will be released. Officially, it'll arrive in 2010, although one executive has now publicly conceded this could happen in 2009. What would that mean? The Windows Vista RC1 appeared on September 1, 2006 and was released to manufacturing on November 8, 2006. A summer release to manufacturing (RTM) and full availability in time for the autumn looks a reasonable bet.
Microsoft's rhetoric on Windows 7 is a welcome contrast to that for Windows Vista and "the wow starts now." Nobody believed that. Now we have talk of making Windows quieter, improving performance, and improving usability. Underneath, Windows 7 is mostly the same as Windows Vista, but it is an unequivocal improvement.
Microsoft has a lot on its mind right now, with mobile and the internet, and most of the changes in the RC are minor. Give this is likely to be the last outing before the operating system is released, Windows 7 right now at least looks like a sound return to the company's core competency. ®
Sponsored: Minds Mastering Machines - Call for papers now open