Peugeot preps 4WD diesel hybrid
Electric for extra grunt, fuel conservation
'Leccy Tech Peugeot's interesting HYbrid4 diesel hybrid 4WD system - previously known as HYmotion4 - has made the leap from the drawing board and concept car to prototype production in preparation for it hitting the streets in the summer of 2011.
HYbrid4 will first see the light of day in Peugeot's new 3008 Crossover, the petrol- and diesel-powered versions of which will go on sale in Europe later this year.
Rather than use a plug-in system, the French car maker has opted for a more traditional closed system hybrid as found in the likes of the Toyota Prius and Honda Insight, but has taken things a step further.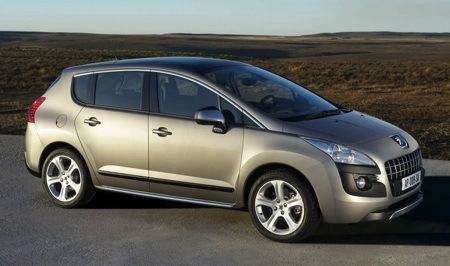 Peugeot's 3008 Crossover: 4WD diesel and electric hybrid
Primary power will come from 2.0l turbo diesel generating 163bhp and driving the front wheels. The diesel engine will also be used to charge a lithium-ion battery pack that will be hooked up to a 27.6kW (37bhp) electric motor sitting over the rear axle and driving the rear wheels. The battery pack will also draw a charge from regenerative braking at the rear brakes.
The benefits of this system are many: the electric motor can be used either as a power boost; as sole motive power when pootling around town at low speed; to provide four-wheel drive without the usual drive shafts and differentials; or to cut fuel consumption on the open road.
The only downside we can see: you could lose your four-wheel drive in a quite literally sticky situation if the battery runs flat while you're driving off road. Though, like most soft-road vehicles, the 3008 Crossover is probably no more likely be driven up a mountain than it is to be driven on Mars.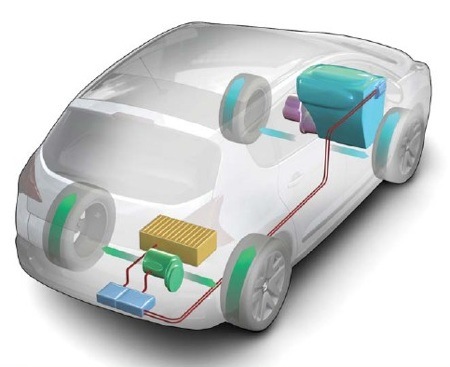 Motor at the back, engine at the front
Peugeot expects the HYbrid4 3008 to emit 109g/km of CO2 and be capable of an average 68mpg. Combine that with what should be more-than-adequate performance from the diesel four-pot and occasional electron-only propulsion, and things start to look rather attractive.
From a production point of view, the system benefits from the standalone rear-wheel battery and motor assembly being easily adaptable to other models and engine configurations, so we can expect to see HYbird4 in other Peugeot and Citroën models in pretty short order.
With the Hybrid4 3008 Crossover lining up alongside the re-badged Mitsubishi iMiEV plug-in battery e-car, Peugeot will soon have one of the more convincing 'leccy car line ups. ®
Sponsored: Minds Mastering Machines - Call for papers now open