Getting started with TrueCrypt
Turn your generic Flash drive into a secure data store
The Filesystem screen gives you the choice of FAT and Mac OS Extended. When TrueCrypt opens the encrypted file, it will present it to the host OS as volume. The OS has to be able to read that volume to show the contents, so choose your filesystem accordingly: FAT if it's to be read on different platforms, Mac OS Extended if you're only ever going to want to view the encrypted store's contents on a Mac. The Linux version offers a choice of FAT, Ext2 or Ext3.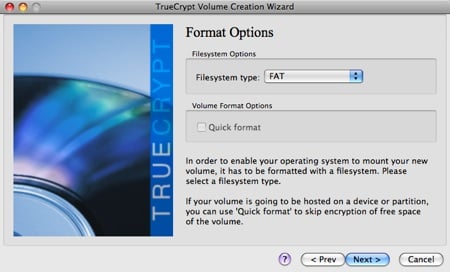 TrueCrypt uses the mouse to help generate a block of numbers which it can use to create the encryption keys for your volume. It'll generate them anyway, but jiggling the mouse around creates blocks of numbers that are closer to truly random than the computer itself can come up with. The longer you can jiggle the better, but when you've had enough, click Format: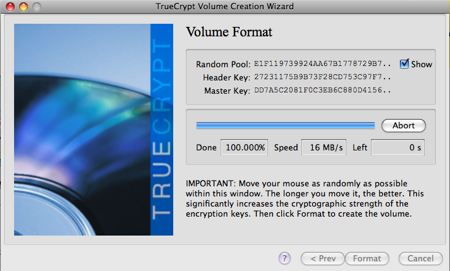 TrueCrypt will create the cipher keys from the random number block and use them to format the virtual volume and encrypt it. When the volume's created, click on the Exit button.
If you stored the file on your computer you can now copy it onto a Flash drive and get rid of the original. To open it up and add files, select one of the available drive slots in the main TrueCrypt window then click the Select File... button to find the file you just created.
Click Mount and you'll be prompted for the password. Entering it correctly will result in the virtual drive being 'connected' to your computer, allowing you to drag and drop files into it: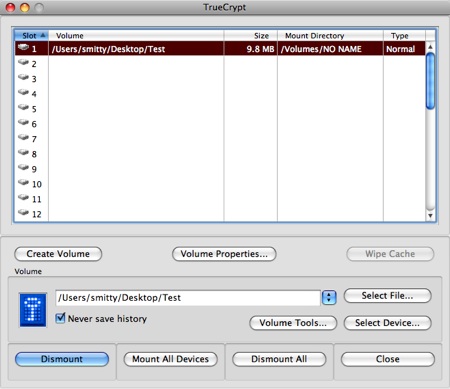 When you're done, click the Dismount All button in TrueCrypt to 'eject' the virtual disk, with its contents now sealed against almost all of the folk likely to come across the host drive. ®
Sponsored: Minds Mastering Machines - Call for papers now open