Wacom Intuos4 L
Magic OLEDs and 2K sensitivity
Bundled in the box is a tidy black pen stand to place the stylus vertically or rest it horizontally, while protecting the nib ends. Unfortunately, it's not as stable and resistant to toppling as the conical Intuos3 stand but it does unscrew to reveal no less than ten spare nibs: five standard black nibs, three grey hard felt-pen effect nibs, one stroke nib, and one sprung 'flex' nib. As with all previous Intuos models, Wacom sell cordless stylus alternatives, including an Airbrush, an Inking Pen, an Art Pen, a slimmer Classic Pen, a mouse and a Lens Cursor puck.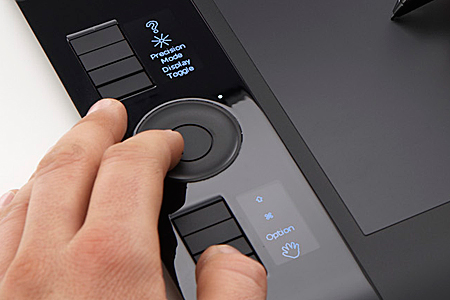 ExpressKey labels are actually little glowing OLED displays...
If the new Grip Pen resembles the old one, externally at least, the Intuos4 tablet itself looks completely different. All eight shortcut ExpressKeys have been moved to one side of the active tablet area, rather than sitting on either side, and the old linear Touch Strip has been replaced with a circular Touch Ring.
ExpressKeys are programmable buttons, offering a quick way of accessing regularly used key commands and modifiers conveniently while using the tablet, without having to keep reaching for your keyboard. You can reassign any keyboard combination or modifier to any ExpressKey, and different sets for different applications, using the Wacom Control Panel.
The problem with this feature in the Intuos3 was that you ended up forgetting which commands you assigned to which button. This is solved in the Intuos4 by the provision of little glowing OLED displays next to each ExpressKey, acting as live labels. When you customise an ExpressKey and give it a name, this name appears as the OLED label next to the button in question.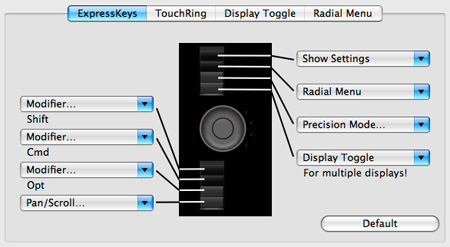 ...and are customisable from the software control panel
Nerd-appeal aside, the OLED labels are a genuinely useful feature, albeit just a first bash at the concept. Some inconsistencies remain, such as the inexplicably tiny Shift and Command modifier icons next to the friendly big Hand scrolling icon. Note that the entry-level Intuos4 S model comes equipped with only six ExpressKeys, and these have no OLED displays.
Sponsored: Minds Mastering Machines - Call for papers now open