Zotac GeForce GTX 275 AMP! Edition
Factory-overclocked for extra grunt
Naturally we were keen to see how the overclocked Zotac GTX 275 AMP! compared with the Radeon HD 4890 but we also wanted to see how the new GTX 275 sits within the Nvidia range. Unfortunately, we don't have a GTX 285 any longer, but we do have a GTX 280 and were also able to grab a GTX 260 from Asus.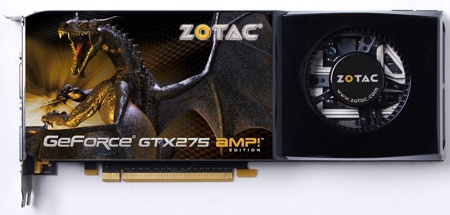 Nvidia's standard enclosure on one side...
All GTX 260s are not made equal as Nvidia uses the model code to cover parts fabricated with the old 65nm process and also with the latest 55nm technology. We had access to a Zotac GeForce GTX 260 AMP! which has a 65nm chip as well as an Asus ENGTX260 Matrix which has a 55nm GPU. The two versions of GTX 260 overclocked to the same figures of 680MHz/2400MHz/1466MHz. However, the Asus ran considerably cooler than the Zotac. No doubt the later chip fabrication process plays its part but the major factor is the two enormous fans that Asus employs.
GPU Temperature Results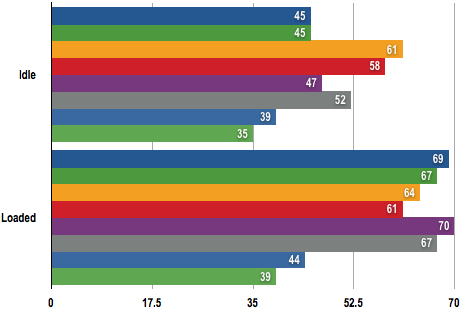 Temperature in Degrees Celcius (°C)

We ran the Zotac GTX 275 AMP!, reference HD 4890, reference GTX 280 and Asus GTX 260 on an Intel DX58SO motherboard with a Core i7 965 Extreme processor and 3GB DDR 3 memory. We used 32-bit Windows Vista Ultimate Edition with Catalyst 9.4 drivers for the HD 4890 and GeForce 185.68 for the three Nvidia cards, and ran 3DMark Vantage, Crysis and Far Cry 2 to see how they performed.
In 3DMark Vantage's CPU tests, the Nvidia cards score significantly higher than the HD 4890 due to the way that the Nvidia PhysX drivers shift the physics workload from the CPU to the GPU. We suggest that you take the CPU and Overall scores with a pinch of salt and instead focus on the GPU test numbers.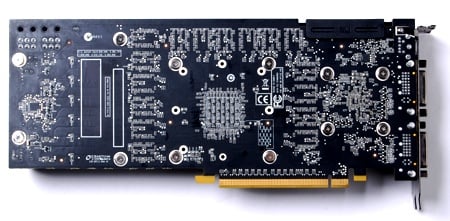 ...and not much to distinguish the GTX 275 round the back, either
The Asus GTX 260 sets an impressive baseline in all the tests which is just as well as £180 is a fairly hefty chunk of cash. Overclocking from 576MHz/2000MHz/1242MHz to 680MHz/2450MHz/1466MHz raises performance by 20 per cent yet it barely affects the temperature of the GPU or the power draw.
Sponsored: Minds Mastering Machines - Call for papers now open