Zotac GeForce GTX 275 AMP! Edition
Factory-overclocked for extra grunt
Review Nvidia launched its GeForce GTX 275 on the same day that AMD delivered the ATI Radeon HD 4890 but it has taken us a while to get our mitts on this factory-overclocked Zotac GeForce GTX 275 AMP! Edition.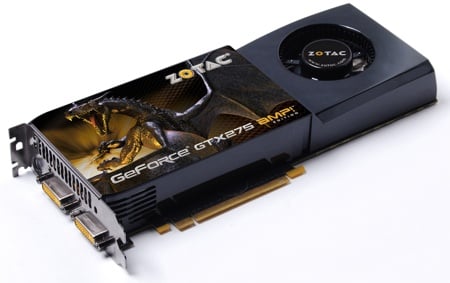 Zotac's GeForce GTX 275 AMP! Edition: ready to take on the Radeon 4890?
AMD had the Radeon HD 4890 available at launch, but Nvidia was a touch slower off the mark with the GTX 275, which fuelled rumours that Nvidia had brought the launch of the GTX 275 forward to spoil the release of the HD 4890.
As the name suggests, the GTX 275 is a close relation of the GTX 285 and uses the same 55nm fabrication process. The GTX 275 and 285 share the same count of 240 unified shaders. However, they have different memory and controller specifications. The GTX 285 has a 512-bit controller and 1GB of GDDR 3 memory, but the GTX 275 had to make do with a 448-bit controller and 896MB of GDDR 3.
Feeds and speeds are quite similar for the GTX 275 and GTX 285 with a core speed of 630MHz and 650MHz, respectively; memory that runs at an effective speed of 2200MHz and 2400MHz; and the unified shaders are clocked at 1400MHz and 1500MHz. It's difficult to be more precise as the reference speeds are only a starting point for production graphics cards and factory-overclocked models. The restricted memory controller and reduced amount of memory suggests that GTX 275 should be ten per cent slower than GTX 285 while the increased clock speeds give the GTX 285 a further ten per cent lift in performance.
Outwardly, the GTX 275 looks very similar to both the GTX 285 and the junior GTX 260 as all three models measure 265mm in length and have an enveloping shroud over the heatsink with an angled fan at the end. Each graphics card uses a pair of six-pin power connectors to top up the juice supplied by the PCI Express bus. The older, 65nm GTX 280 used one six-pin and one-eight-pin connector, by contrast.

Takes up two slots
A basic GTX 275 is clocked at 632MHz/2268MHz/1404MHz and can be bought for as little as £199, although Zotac sells its basic GTX 275 for £229. The overclocked AMP! Edition is priced at £253 and is clocked at an eye-watering 702MHz/2520MHz/1512MHz. That range of prices pitches the GTX 275 squarely against the Radeon HD 4890, which starts at £199 for a basic model clocked at 850MHz/3900MHz while a faster 900MHz/400MHz model costs £239.
Sponsored: Minds Mastering Machines - Call for papers now open