Toshiba Tecra M10 14in notebook
Modern internals, old-fashioned looks
That won't have made much difference to the battery test, and here the M10 fared poorly when we ran PCMark05 over and over again until the laptop's 5100mAh power pack gave out. The screen was kept on maximum brightness throughout and the Wi-Fi was on and connected to our access point. The M10 ran for just 1h 21m.
Battery Life Results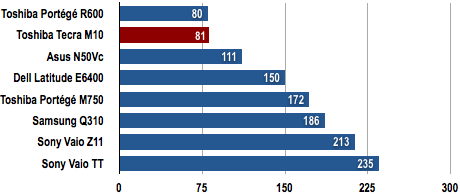 Battery life in minutes
Longer bars are better
To be fair, it's a tough test and real-world usage is likely to see the battery drain far less rapidly. We'd expect the M10 to run for three hours or so under a more realistic workload. Given the size of this machine, we'd say it's not the sort of box likely to be used away from the mains for too long in any case.
Toshiba's M10 range stretches to eight models, running from £631 (£549 exc. VAT) to £1034 (£899 exc VAT). A couple of models have on-board HSDPA 3G modems - the review unit didn't - but it's primarily CPU speed, and memory and hard drive capacity that change as you go up the line.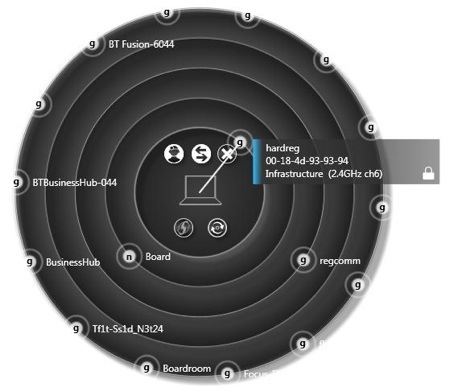 Track down networks with Toshiba's Radar utility
The pricing is neither aggressive nor off the map, and while the M10 delivered a decent enough performance and feature set, we think we'd rather spend the £900-odd that the M10-10I costs on a business laptop with equally up-to-date internals but a rather more modern look. And better battery life.
Verdict
We can't fault the Tecra M10's performance, but with a relatively feeble battery pack and a look that's more Nineties than Noughties, this notebook failed to excite. Just the sort of thing to give to staffers who might otherwise get ideas above their workstation. ®
More Notebook Reviews...
| | | | |
| --- | --- | --- | --- |
| Toshiba Portégé M750 | Asus N50 | Samsung Q310 | Sony Vaio Z11 |

Toshiba Tecra M10 14in notebook
Odd retro looks, a bulky design and a below-par battery life take the shine off this business notebook's decent performance.
Price:
£631-1034. As reviewed: £967 RRP