Toshiba Tecra M10 14in notebook
Modern internals, old-fashioned looks
Toshiba has dropped a thumbstick in between the G and H keys, so you an control the cursor with pushes and pulls if you're not a fan of trackpads. The M10's trackpad is deep seated but no less usable for that, and its own mouse buttons are nicely complemented by a second pair mounted above the trackpad - and so ideally placed for your thumbs when you're steering the pointer with the joystick.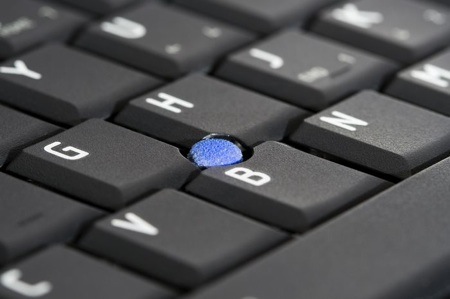 Thumbstick standing proud
The M10's inevitable fingerprint reader sits between the main trackpad buttons - a far better location, we think, than slap bang in the middle of the right-hand wrist-rest area, which is where these devices are often located.
Above the keyboard is the M10's screen. Maybe it's just, now thoroughly accustomed to glossy screens, but the Tecra's seemed a little dark to us. And when we tried it out with bright sunlight right behind us, we were left unconvinced that it's any easy to read than the glossy screened machine we had sat next to it.
The M10 comes pre-loaded with Windows Vista Business, and Toshiba's also thrown in a nice line of utilities designed to make connecting to networks and wireless devices, rustling up a set of recovering discs, managing the hardware, creating a bootable SD card, burning CDs and data discs, and keeping the machine's software up to date, all easier than the operating system makes these tasks.
Toshiba's even included a rather nice DVD player app, one much more attractive than Windows Media Player or many of the third-party players available. Together, Toshiba's apps are a model in bundled utilities that should be available on all PCs.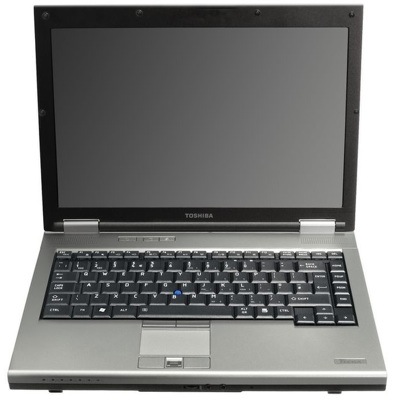 The keyboard layout's unusual, but just fine to use
Turning to the Tecra's performance, we found it to be no slouch, with the fast memory and mid-range processor rendering it reasonably nippy, though it's no powerhouse. PCMark05's overall rating for the machine wasn't as high as we were expecting, particularly in light of what comparable notebooks have garnered, but that's because if the M10's relatively poor Graphics score.