Toshiba Tecra M10 14in notebook
Modern internals, old-fashioned looks
Taking a trip around the machine, the left side presents said RS-232 and USB/eSata ports, plus an ExpressCard 54 bay and a multi-format memory card slot. The front is home to a bank of seven status LEDs, a microphone, and 3.5mm audio input and output sockets, the latter fed through an endlessly turning volume dial.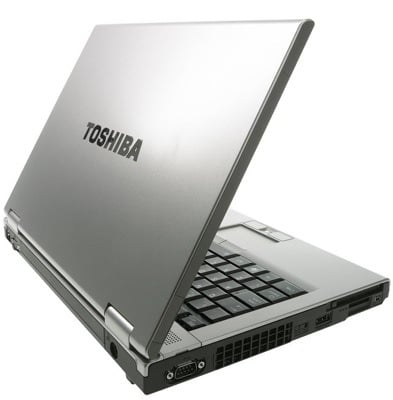 Is that a serial port I see before me?
Round to the right, there's the optical drive, the remaining USB ports, a 56Kb/s modem outlet and, handy for security minded IT departments, a smartcard reader. The back of the M10 has power, Gigabit Ethernet and VGA ports.
Flipping the machine over exposes the hatches that allow you to view the M10's hard drive and two (filled) Dimm slots.
Unlike true 1990s laptops, the M10's lid isn't latched, but it's hinges aren't half resistant to movement. Sure stiff is better than floppy, but one-handed operation is better than two. Given the size and weight of the base of the machine, we were surprised to find we still needed to hold it down with one hand while opening the lid with the other.
The M10's yesterday's laptop styling continues with its keyboard. Toshiba has separated the function keys from the main array, and it's moved the Home, Page Up, Page Down and End keys into a block of their own over to the right. Combine that layout with the tall-seeming keys and, again, the M10 gives the impression of a decade-old design.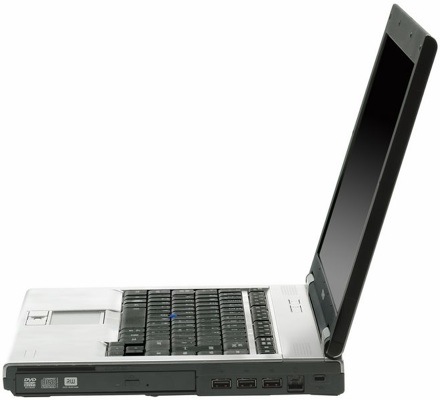 All connectivity choices covered
The keyboard has a solid foundation with barely any flex, and the keys themselves seem to have a greater travel the modern ones do. That said, it's no less comfortable to type on for that and it certainly doesn't feel cheap and rattly the way so many, more slimline keyboards do these days.