3PAR revs CTO office for major changes
Two founders to share CTO job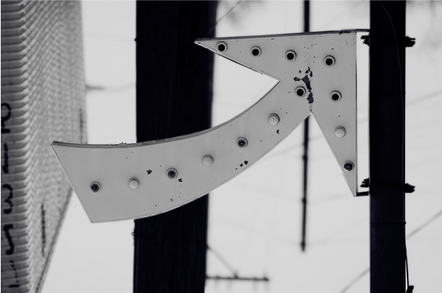 Comment It starts innocuously enough, but follow this thread and the implications start building up. 3PAR has a new engineering VP.
He is Peter Slocum, and he's got an impressive background with ViVOtech and Brocade in his CV, plus earlier stints at Silicon Graphics, MIPS Computer Systems, and Hewlett Packard. So far, so ho hum. But wait, didn't 3PAR already have an engineering VP? Yes, it was Jeff Price, one of the founders. Here's where it gets interesting.
He's not retiring upstairs to the board. Instead, he's becoming the chief technology officer (CTO) for system design.
Didn't 3PAR already have a CTO? Yes, it did, and still partially has. He is co-founder Ashok Singhal. In fact, the CTO function is being split between the two founders, Singhal's part of it being to look after system architecture. Why has CEO David Scott agreed to divide the CTO function like this?
Here's a potential justification: the 3PAR InServ product is based on up to eight clustered controllers, connected via a proprietary backplane through an ASIC (application-specific integrated circuit) to each other and to the storage containers. Amongst other attributes of the design, data is split into chunks and these are striped across all the drives, so-called wide-striping, to provide fast access. The InServ arrays have taken a lead in thin provisioning as well as having a very easy to use management interface. 3PAR has steadfastly aimed them at enterprises, competing with EMC's Symmetrix and upper-end Clariion systems as well as IBM's DS8000 and HDS' USP-V for customers needing reliable, fast-access and scalable storage.
It's taken a while but EMC has made lengthy strides to catch up. It's new Symmetrix V-Max has up to eight quad-core Xeon controllers, linked together with the RapidIO interconnect, splitting data into chunks that are striped, and providing thin provisioning.
In broad respects, it's level with 3PAR, and its roadmap extends out to a degree of scalability far, far beyond what 3PAR can offer, with 256 controllers being mentioned. EMC is also ahead of 3PAR with regard to deploying flash solid state drives (SSD) where it's in its second generation and 3PAR has yet to deliver on its intended deployment.
What does 3PAR do now? To my mind it obviously has a near-term roadmap, featuring evolutionary developments of its InServ array hardware and software. But cloud computing ideas are spreading fast, and many of 3PAR's existing customers are already dipping toes in the cloud computing water. This implies that they will need much more scalability, much more resilience, more multi-tenancy, perhaps even higher storage utilisation and, possibly, data deduplication.
An implication of the beefed-up CTO role, with both founders involved in it, is that a major and fundamental review and upgrade of 3PAR's system architecture and products is starting. If this is the case then when might we see results? Watch out for CTO pronouncements and views next year, with possible, '3PAR Trek: The Next Generation' signs appearing in late 2010, early 2011.
But is it the case? 3PAR's VP of marketing, Craig Nunes, dashed cold water on the ideas, saying: "This plan has been underway for more than a year, so it certainly was not in response to the EMC V-Max announcement."
"Jeff has always been critical in the system design aspect of our products. In effect he has been operating in both a CTO role (with Ashok) and a VP Engineering role since the company was founded. ... Now with the engineering function spanning the US (Fremont, CA and Seattle, WA) and Europe (Belfast, N. Ire), the time has come to divide the role."
He does not believe that EMC's V-Max Symmetrix is doing 3PAR-like things with data chunks, saying the idea that: "V-Max offers a chunk-based architecture, ... we believe is substantially off-base. In actuality, we understand that EMC has the same old disk-based RAID level management which is a result of bolting on unchanged Enginuity to its new hardware platform. Underneath it all, like XIV, EMC has missed the utility computing design requirements for (the) virtual data center."
So... there is nothing significant to be read into the fact that 3PAR's two founders are now sharing the CTO role, with one looking at system design and the other at system architecture, just days after EMC launches its Symmetric V-Max. Nothing at all. No siree. ®