Edifier Luna 2 desktop speaker set
Class-D amp, 30W output for your laptop, anyone?
Moving away from PC- and PMP-based content, the optical audio cable came in handy for hooking the speakers up to TVonics MDR-250 Freeview set-top box. Between the two of them, they gave a whole new lease of life to a rather tired old Samsung portable LCD telly, the Luna 2s providing a wealth of power and detail which really proved its worth during Once Upon a Time in the West with its epic Ennio Morricone score.
With an RRP for £250, the Luna 2s aren't cheap but it's difficult to come up with a direct competitor for them in order to judge their value for money.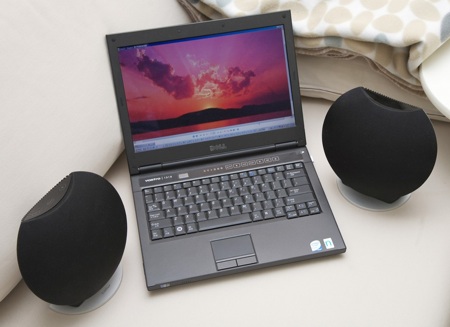 Turn your laptop into a hi-fi
You can get perfectly good desktop speakers from the likes of Altec and Creative for under £100, but they won't come with a Class-D amplifier, 30W per channel of power, an optical input or a touchsensitive media player control interface.
The same money would get you a 2.1 system like Creative's Gigaworks T3 but that's both bigger, uglier and less convenient to move than the Luna 2 and is designed more to produce foundation shaking amounts of bass than a delicate musical balance.
It could be argued that the Luna 2's power output is irrelevant if the speakers are going to spend all their time sitting on a desk next to a PC less than two feet away from your ears - turn them up and you'll simply deafen yourself. Where the Luna 2s come into their own is when you want to turn your laptop into a stylish temporary hi-fi - for that they are absolutely ideal.
Verdict
Assuming you need the power and intend to use your Luna 2s for something other than general desktop use then they have a lot going for them. They can generate a punchy and well-balanced sound that can easily fill the largest of rooms and can give many passive bookshelf speakers driven by half decent stereo amplifiers a run for their money. ®
More Speaker Reviews...
| | | | |
| --- | --- | --- | --- |
| Altec Lansing inMotion Max | Intempo InSession | Edifier Luna 5 | Orbitsound T3 |

Edifier Luna 2 desktop speaker set
Very expensive but also very good. If money is not an object the Luna 2s are just about the best sounding, best looking and most versatile all-purpose PC speakers available.