HTC Touch Diamond 2
The best iPhone-botherer yet?
HTC's justly praised TouchFlo 3D interface is back and now keeps the user even further away from the underlying Windows Mobile 6.1 operating system. As before, you can scroll through the main functions by brushing your thumb across the menu at the bottom of the screen, and there are two on-screen keys for quick access to phone keypad and camera.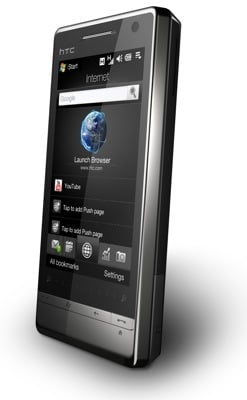 The UI's almost iPhone-like
But when you want to get deeper, there's a surprise waiting for you when you access the Windows menu, either by pressing the on-screen button in the top left-hand corner or the hard button beneath the screen. Instead of the usual list of functions there's now a selection of thumb-sized buttons offering all the usual functions, and you can include up to 24 customisable functions for easy access.
It's starting to look like the iPhone's apps menu, which is a good thing, especially with the promise of an app store that should be available when Windows Mobile 6.5 launches later this year. The Diamond 2 is apparently Windows 6.5 "compatible", which means you'll be able to upgrade it to the new OS for when it becomes available - providing HTC makes the update available, of course.
There have been a few other tweaks to the TouchFlo interface, including an improved contacts menu that allows you to see a complete history of text messages, emails and calls from each contact. Messaging, by the way, is first rate, with push email available to keep you up to date wherever you are.
The browser interface is still one of the best available, allowing you to brush your way around web pages with ease. The phone's motion sensor lets you switch easily between portrait and landscape modes, and the zoom bar, which used to appear only within the web browser now has a permanent place beneath the touchscreen so you can also use it when you're viewing pics. Web access on this quad-band phone is nice and nippy using the HSDPA 3G connection - with up to 7.2Mb/s download speed if your network supports it - or broadband over 802.11b/g Wi-Fi. Opera is the default browser, though you can use Internet Explorer if you prefer.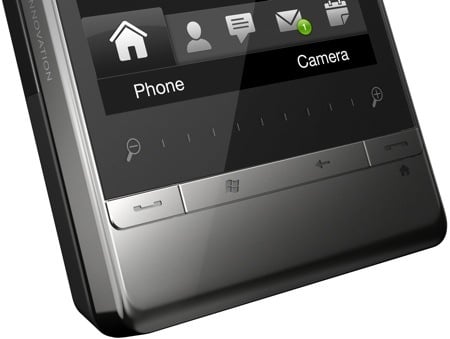 The once browser-only zoom bar is now a separate control
HTC has also added a feature it calls "Push Internet" which gives you the option to download favourite web pages in advance at set times for quick access. It means you can load favourite news pages pretty much instantly, even when you're out of network coverage.