Sanyo Xacti VPC-HD2000
World's first 60f/s HD camcorder
It's doubtful that most YouTube buffs will be interested in a Full HD camcorder costing in excess of £500. Will your mate, prancing about drunk in a 'Mankini', look funnier in HD? For them, the Flip Mino HD will do, and it's only 170 quid.
Or will you finally stir a little interest among family and friends when, this time, you invite them round to watch your HD Kenyan Safari? It's more likely that this camera appeal to the home moviemaker, with a big TV and a big wallet.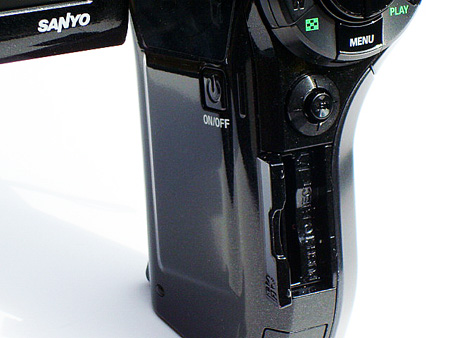 Need a more recording time? Simply slot in a spare SD card
Verdict
Yes, this is a clever piece of kit, although its cute size and shape may not suit those with larger hands. The controls are very simple to understand and the ease with which one can switch from record to play mode is commendable. And although the 2.7in LCD Monitor is large in relation to the size of the rest of the camera and seems a little vulnerable even when closed, it's hardly a major concern. The camera feels comfortable in either hand, and the ergonomic qualities of the design do help towards steadier shooting.
Enthusiasts not affected by the 'crunch' and simply can't wait to see how smooth everything played back at 60f/s in HD really is, should go ahead and play. However, if your demands are less exacting then the Xacti exacts a price for its fast framework that focus both mind and wallet. ®
More Camcorder Reviews...

Pure Flip Mino HD

Nikon D90

Ten of the Best...
Pocket Camcorders

Flip Ultra
Sponsored: Minds Mastering Machines - Call for papers now open
Sanyo Xacti VPC-HD2000
A little pricey with sluggish autofocus in low light and can't save user settings, but technically mostly hits the spot.