Sanyo Xacti VPC-HD2000
World's first 60f/s HD camcorder
Once chosen, these parameters are easily altered by the tiny joystick. The iris can close from f1.8 to f8 only, while the shutter speed ranges from 1/1000s to four seconds in photo mode. There is a self-timer, which is only useful if you angle the screen for balance or have a tripod handy, as the unique pistol-grip design doesn't really allow the camera to stand steady on its own.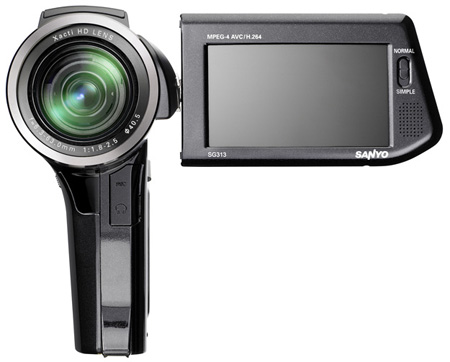 Balancing act: self-timed pics will benefit from a tripod
The joystick also controls the manual focus, which ranges from 1cm to infinity. You can also adjust the ISO rating from 50 to 3200. There are lots of other things on the menu to play with, such as three filters: Monochrome, Sepia and Cosmetic, with the latter failing to make any discernible difference.
Eight different sounds can be assigned to the shutter and the joystick separately. Although practically all of these noises are unnecessary and irritating, when taking stills in low light it's handy to have audio confirmation that the shot has been taken, as the focusing and execution - without flash - won't be as quick as expected. The flash seems to be effective up to 4.5-5m but bear in mind that when set to 'auto' the bulb won't necessarily pop up.
Stills can be taken while simultaneously shooting video, and the Xacti also allows image capture from footage during playback. Rotate and resize operations, aspect ratio conversion, and an anti-delete 'lock' can all be applied with a few simple nudges of the mini joystick. It's a useful facility, which enables inexperienced still photographers to achieve decent results.
Video footage is recorded in MPEG 4 format and even though a copy of Nero 8 Essentials is included in the package, it may be worthwhile looking around for editing software with more to it. For those lacking confidence with editing apps, the camera has a fun 'cut and join' facility which provides an easy option for splicing clips, so long as they are filmed in the same mode. You can't join slow-motion clips to real-time ones, for example.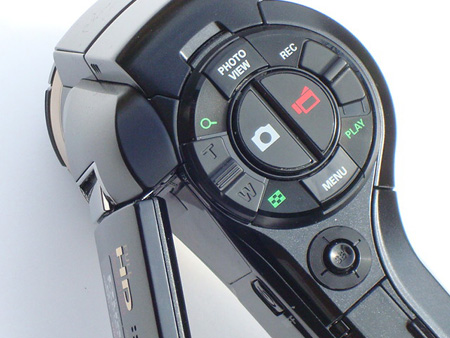 Deep joy: the mini joystick helps penetrate the Xacti's depths
From empty, the battery charges in 200 minutes and will last just over two hours whilst shooting video in Full HD or nearly six hours in playback mode. Although the Xacti comes without a storage card, a 16GB SD memory card will take up to 2h 11m of HD footage which, conveniently, is about as long as the battery will last.
Sponsored: Minds Mastering Machines - Call for papers now open