Waterproof OLED spied online
Dunkable display
OLEDs are fast becoming the display of choice for gadget manufacturers, but an advanced form of the screen could soon see the technology integrated into more rugged devices.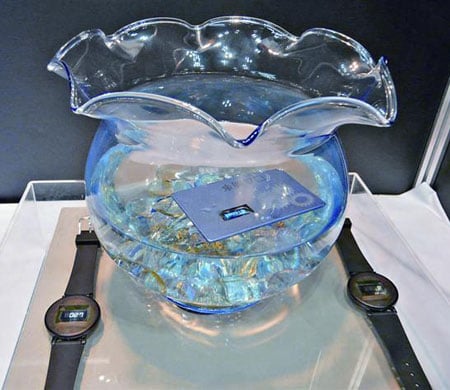 Ito's waterproof OLED was recently displayed in Japan
Image courtesy of DigiTimes
Japanese firm Ito Electronics has showcased a waterproof OLED at a technology fair in the country. Little's known about the display's features, but the picture shows the screen in a "packaging technology" that we assume is what gives the OLED its waterproof ability.
Given that two wristwatches are displayed beside the water-filled vase, it's possible that Ito's planning to transplant its waterproof OLEDs into watches. Several manufacturers have already talked-up OLED watches, including LG – which recently launched its GD910 video-capable wristphone. ®
Sponsored: RAID: End of an era?