VMware anchors hypervisor future on 'nebulous phrase'
Clouds and thundersticks
One huge HCL
A second notable demo displayed what Herrod referred to as one element of the "Choice" aspect of vSphere. Before launching into the demo, he explained that VMware will provide a "huge HCL" (hardware compatibility list) for vSphere, and will support "more operating systems than you probably knew even existed."
The choice he demonstrated with VMware Storage VMotion was of the dynamic resource-allocation variety. Storage VMotion is - you guessed it - the storage analog for the existing VM-hopping VMotion and can transparently move a VM's underlying storage system from one array to a different array, even if the arrays have different storage protocols.
Herrod explained that Storage VMotion "will keep a lot of IT administrators from coming in at two a.m. for some scheduled downtime of their storage. We'll get a lot of thank-you notes for that."
The demo UI displayed an inventory of the available data stores in the mini-data-center demo set-up, including iSCSI and Fibre Channel arrays. One of the data store icons had an exclamation-point on it to indicate that something was amiss. Through the management tool, Herrod determined that the data store was reaching its provisioned capacity - an alert level that an admin can set in the UI.
The alarm-bearing data store had three VMs using it. As Herrod explained, there are "a number of things you can do" to recover from this problem. He demoed a straightforward data store migration.
To do so, he chose Migrate in the UI, which presented him with the choice of either moving the VM using VMotion to other hardware or changing its storage array using Storage VMotion. He chose the latter. He was then presented with a list of capable data stores, chose one, and took the option of reducing the amount of storage allocated to the VM using it, using vSphere's Thin Provisioning capability. During the migration of the data store, its VM continued to provide services as usual, and no one was the wiser.
The third notable demo used a 48-processor UltraSPARC system from Sun Microsystems. Just as the demo began, however, a VMware staffer ran up to it and taped a large hand-written sign over the large Sun logo. On it was written "IBM" - with an X through it - and then, below that, "Oracle".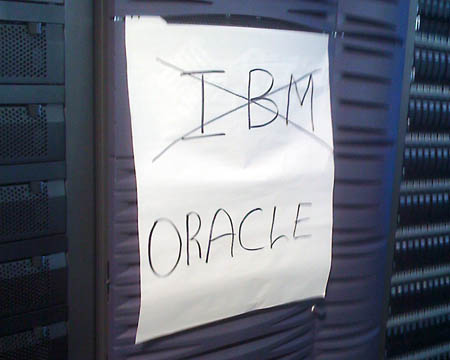 Covering the Sun logo on UltraSPARC big iron
It's a safe bet that they were having more fun in Palo Alto today than they are in Sun's headquarters. ®
Sponsored: Minds Mastering Machines - Call for papers now open