Spec-less 3D TV displayed
A step closer to in-home 3D TV?
Watching a 3D TV without having to don the silly specs is the holy grail for viewers. Now, as in-home 3D TV edges closer, one firm's demonstrated its latest specs-less 3D TV effort.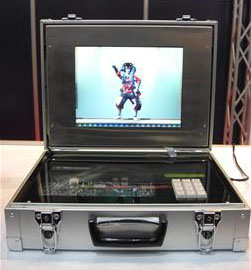 TMDT's screen shows 3D without glasses
Image courtesy of DigiTimes
At a recent technology show in Japan, Toshiba Matsushita Display Technology (TMDT) showcased its Integral Imaging 3D display – which doesn't require the viewer to wear polarising specs in order to see 3D images.
The technology behind the screen is still a closely guarded secret and, given its 12.1in size, is undoubtedly a work in progress.
But it's worth noting that the small screen also boasts an impressive 1400 x 1050 resolution when the user flicks it over to display 2D content.
3D TV has been a hot topic this year. Broadcaster Sky's already begun testing over-the-air transmissions of a 3D TV service and various manufacturers, including Mitsubishi, have produced 3D-capable sets – sadly the specs are still required to see images in 3D, though. ®
Sponsored: Minds Mastering Machines - Call for papers now open