TVonics MDR-250
Rather good, considering the price
Other useful features include a parental control lock too keep wee Jimmy from watching the Channel X previews of an evening, the option to have the TV make a bleeping sound whenever a remote control command has been accepted, and the ability to bring the unit off stand-by using the EPG timer - handy if you want to hook it up to a video recorder and make timed recordings.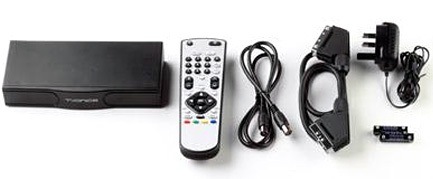 A well-filled package for £40
For a budget device, the MDR-250 is very fleet of foot when it comes to reacting to commands. The EPG, programme information, digital text, subtitles and audio descriptions all flash up almost instantaneously with none of the drag or delay all too often found on cheaper Freeview boxes.
Of course, there are some things you simply don't get for forty quid and these include a picture-in-picture preview facility, an RGB output signal from the second Scart slot, or an HDMI port.
What the MDR-250 does have though are solid environmental credentials: on stand-by it draws a parsimonious 1.7W while when in use it only draws 5.1.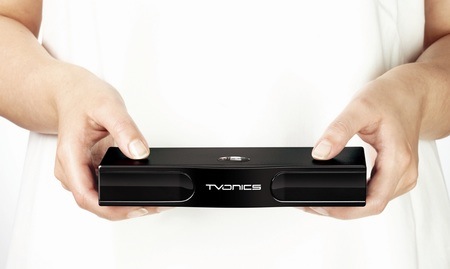 Handy
Verdict
As a simple and straightforward way to get Freeview, the MDR-250 has very little in the way of faults. It's extremely easy to set up and no less easy to use, while the inclusion of an RF modulator means you can have digital telly on even the most ancient box. Combine that with the smart design, nice remote control and excellent value for money, and we'd say TVonics has a winner on its hands. ®
More Set-top Box Reviews...
| | | | |
| --- | --- | --- | --- |
| Humax Foxsat-HDR | Emtec Movie Cube S800 | TVonics DTR-Z500 | Western Digital WD TV |

TVonics MDR-250
The MDR-250 is simple to set up, easy to use, has a very nice EPG and produces a good picture. It'll even work with Scart-less TVs. At the price, you can't ask for more.