Toshiba secretly working on TG02 and TG03?
Leaked document reveals Tosh's phone roadmap
Toshiba's recently unveiled TG01 smartphone isn't even out yet, but a leaked document's apparently uncovered evidence of two further phones in the TG line.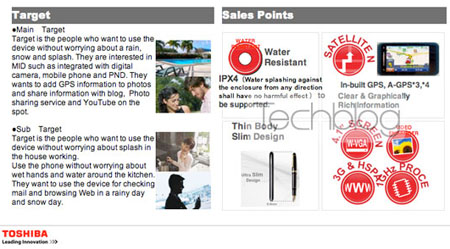 A leaked slide reveals some of the TG02's features
According to a report by website Techblog, the document – from sources unknown – not only appears to signal a second quarter launch for the TG01, but fourth quarter launches of handsets unimaginatively labelled the TG02 and TG03.
The TG02 will supposedly have a 4.1in touchscreen, a 1GHz processor – most likely the Qualcomm Snapdragon inside the TG01 – and run on Windows 6.5.
It'll also feature a 3.2Mp camera, HSDPA connectivity and support GPS. The phone's also said to be impermeable to liquid splashes, such as from rain or snow, which could prove handy.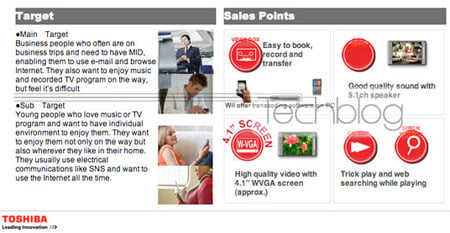 The TG03's features also look promising
Sadly the TG03 doesn't seem to be much of an improvement in terms of features, with the only main technical difference from the TG02 being that the TG03 has a 5Mp camera.
Details about launch dates or prices weren't leaked alongside. ®
COMMENTS
Er...
Since it takes about a year to dev a new mobile phone, and new phones are released every 6 months or so, then you have to have at least two generations in development at any one time.
And as for surround sound, that will come out of the HDMI connector.....
What, your phone doesn't have HDMI out? An HD video camera? C'mon, get with the program. Or is that the next generation? Oh yes....
Surround sound
It's interesting how the TG03 seems to have 5.1 surround sound built-in. I'll be very intrigued to see how they build the rear speakers into the handset... not to mention the sub.