Tesla to open London showroom
Firm's first non-North American abode
'Leccy Tech Californian 'leccy car maker Tesla has announced plans to build its first showroom outside of North America in Blighty.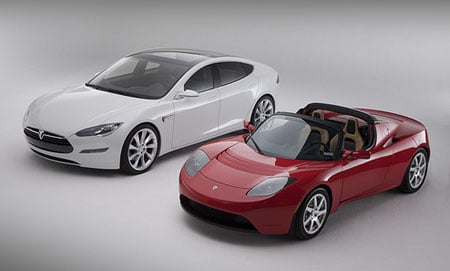 Tesla's Model S (left) and Roadster (right) will, eventually, be available to buy in London
The firm's Sales and Service Centre will be built in London's famous Knightsbridge district, on a site previously home to the now defunct Segrave Supercar Club.
Tesla's swanky London showroom should be up and running by the end of June, but when its doors do open the only model you'll actually be able to buy will be the limited edition Signature Roadster for £94,000 ($138,000/€104,600).
The standard Roadster (shown above) will cost upwards of £87,100 ($128,000/€97,000), but it won't roll into the showroom until "late 2009", along with the £103,200 ($151,500/€115,000) Sport version.
If you want to get ahead of the queue for the 2012 launch of the Tesla Model S, then the firm's London showroom staff will happily take a £4000 refundable reservation deposit from you - or a £30,000 deposit for one of the limited edition Signature models.
Tesla hasn't said which side the steering wheel will sit in its UK models, which makes us rather suspect it will be on the left.
This will be disappointing if its the case, because the Tesla Roadster runs on the same chassis as the Lotus Elise – meaning that building a right-hand drive version shouldn't be beyond the bounds of possibility.
Tesla's Chief Executive Officer, Elon Musk, added that it's also planning to open showrooms in Munich and Monaco this year.
"We expect that Tesla sales will eventually be split evenly between the US and Europe". ®
Sponsored: Minds Mastering Machines - Call for papers now open