Radiopaq punts 'custom tuned' cans
Rock earphones for rockers, Jazz for jazz fans...
Not content with acting only as a search engine for web-based audio, Radiopaq has branched out into audio hardware and designed a selection of earphones tuned to your musical tastes.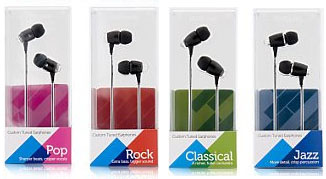 Radiopaq's earphones emphasise the audio qualities of different music genres
The firm's launched four genres of Custom Tuned Earphones: Classical, Jazz, Rock and, of course, Pop. The idea being that the Rock cans will, for example, emphasise the oppressive bass guitar and drums of Metallica much better than an ordinary pair of headphones.
Each of the four pairs are based on Radiopaq's own Intelligent Audio technology that it claimed "boosts the high and low end frequencies typically lost when a track is compressed".
The result should be a richer and more encompassing sound, with greater audio detail, sharper percussion, greater clarity and – quite possibly - angel trumpets and devil trombones.
But Prash Vadgama, President of Radiopaq, resisted claims that its Classical cans would, for example, render listening to Phil Collins useless.
He told Register Hardware that although each pair is tuned to bring out the very best in one particular music genre, each set works well outside of its musical element. "Think of our earphones like a 4X4 car. You can drive it on the road just as well as any other car, but when you go off road that's when a 4X4 really comes into its element".
Radiopaq's also mimicked its Intelligent Audio technology into two further products that help overcome the negative audio qualities arising from digital compression.

Each earphone genre's shaped slightly differently
The Sound Jacket – for iPod lovers – and Sound Mix – for non-Apple lovers – both feature audio processors - containing 1000s of audio profiles – that help to rebuild digitally compressed tracks to their former glory.
Sound Jacket is essentially a "Metallic Grey" sleeve that the Nano slots into, but Radiopaq admitted that the Jacket will reduce the Nano's 19 hour battery life down to about 11 hours.
Sound Mix provides the same benefits as Sound Jacket, but is an in-line adaptor that clips onto your jacket or blouse.
Radiopaq's Custom Tuned Earphones are available online now, priced at £59 ($87/€66). Both the Sound Jacket and Sound Mix will be launched towards the end of June and are set to cost roughly £79 ($117/€88) each. ®