Hybrid Jaguar XJ en-route?
Luxury eco travel
'Leccy Tech Come 2011, Jaguar will launch a Chevy Volt/Opel Ampera-swatting extended range electric hybrid version of its next generation XJ saloon.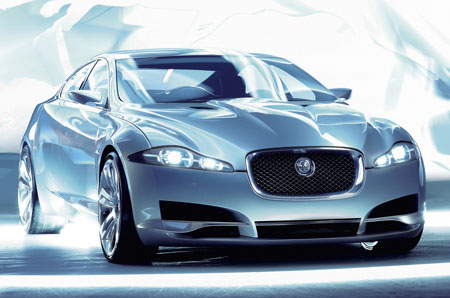 Jaguar's 2007 C-XF. The shape of things to come?
According to a report by magazine Autocar, the leccy XJ will be capable of roughly 30 miles of battery powered travel before the range extender fossil fuel engine kicks in to drive its wheels – and recharge the battery pack - through a generator.
It's worth noting that we haven't yet had direct confirmation of this from Jaguar Land Rover.
That Jag will have the wherewithal to undertake a project like this we don't doubt, since it was recently granted a £340m ($500m/€379m) loan by the European Investment Bank to develop more environmentally friendly vehicles.
The car firm said it plans to invest a total of £800m ($1.1bn/€890m) on developing "sustainable technologies" that will lower the CO2 emissions from its vehicles.
Jaguar's e-car plans will be helped by the fact that the current XJ is one of the lightest cars in its class, largely due to its all aluminium chassis. In a recent speech, JLR's CEO - David Smith - boasted that you could weld a Lotus Elise onto the roof of an XJ and still end up with a car weighing less than an equivalent German model.
Though Smith made no mention of Jaguar's exact EV model plans in his speech, he did say that: "While electrification will definitely play an increasing role, we should not overstate the imminence of the pure electric car – the internal combustion engine will be around for a long-time yet".
You could interpret that to mean that Jaguar reckons a range extended hybrid EV is the way forward, at least in the medium term.
The report added that Jaguar will be working with Lotus and automotive engineering concern Caparo on development of the 'XJ-e'.
Coincidentally Lotus and Caparo began work on a project called Limo-Green back in the summer of 2008, which used the chassis of a Jaguar XJ as the basis for a vehicle that sounds near identical to the supposed next generation XJ e-car.
Perhaps Jaguar has taken a more official interest in the project now its pockets are bulging with green coloured development cash?
And don't forget the strange case of the silent Jaguar XK seen - but not heard - charging around the Nürburgring some six months ago.
If nothing else, a leccy XJ will make the Gordon Brown's desire to stick Whitehall mandarins and Government ministers in a fleet of electric cars more practical. ®
Sponsored: Minds Mastering Machines - Call for papers now open