With the kernel modules in place, we're still not quite ready to rock and roll. First, we'll have to ensure that the new modules are added to the system module inventory, a text file called modules.dep. This list makes sure that any module that requires the presence of other modules to work properly gets everything it needs at load time.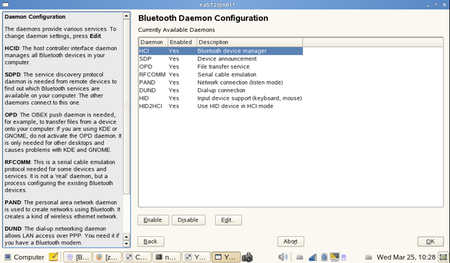 Yast's Advanced Daemon Configuration shows that the MSI Wind comes with Bluetooth software capability already installed
Managing this string of dependencies is a complex business, but happily you don't have to edit modules.dep manually - just run a tool dedicated to this task:
depmod
...to update modules.dep automatically. And now we're ready to load our new modules into the kernel and get Bluetooth running. The official Acer patch has already installed the script to do this in /etc/init.d, among all the other boot-time scripts. So we just run:
/etc/init.d/bluetooth start
...and if all's well the blue light on the dongle should start flashing. Bluetooth is working.
Now is probably the time to reboot, to make sure the Bluetooth init script is doing its job properly - loading the relevant modules and installing a Bluetooth symbol among the other notification icons down at the bottom right of the screen: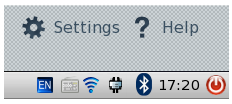 When you scan from your phone for Bluetooth devices, you should see a new one with a name like localhost-0. Right clicking on the AA1's new Bluetooth notification icon brings up a dialogue that allows you to change this to something more informative.
MSI Wind owners don't have to do any of this - Bluez is already installed and ready to run, even if there's no on-board Bluetooth hardware.
COMMENTS
Patch what patch?
I had no idea there was an "official" Acer bluetooth patch; at least my attempts at Windows update er I mean AA1 update (whatever it's called) have never offered it to me.
I have got about three-quarters way through the incredibly faffy procedure in this article and had some success using one or both of two different "dollar fifty" bluetooth dongles from dealextreme.com
Bluetooth on my AA1 does actually "work" in the sense that it can scan around the area and get responses from local devices. Sadly any attempt at a working ppp connection via my phone seems doomed; "no route to host" from the l2ping seems to be the scuppering factor.
Also the very presence of the netbook in the same room now seems to send a previously working Nokia PC Suite on an unrelated machine into a dither.
I have to say that if you get a 3G Huawei E160G dongle for the AA1 it just plugs straight in and works (via the inbuilt Mobile Partner software) so actually I wish I'd done that now instead of rashly buying a 3G phone.
EEEBUNTU
Hi
Just installed EEEBUNTU on my Aspire one ( w HDD) and am well happy with it. The only mod I've made is to use Synaptic to add Evolution using a full intrepid DVD for a repository. Added a 3, G3 dongle for when I'm out and about and it worked as soon as I plugged it in. Have previously made assorted mods to Linpus (some from these articles) but this is *much* better.
I don't use Bluetooth but there's a configuration option for it so I guess it's set up.
@AC
there are lots of versions of linux - and you are aware there are more than one version of windows? Would this bluetooth work if plugged into windows 95 - no. Windows 98 - no. Windows 2000 - no. XP - probably. Vista - probably.
Like I said , there are lots of linuxes. Its just a pity that Acer have a crap one.
But its ok as its linux to totally generalise and assume as it doesn't work on MY COMPUTER then it will never ever work on anyone elses.
Bluetooth on eeepc
Bluetooth on EEE pc 901 worked right out of the box...
no setup, no nothing: turn it on using the button to turn on networks; connect to the bluetooth app you want and download whatever you want to be downloading.
Linpus!
I dropped Linpus as soon as I could because almost everything I tried to install failed with a dependency error. It seems that Acer didn't put as much effort into the quality control of the software as they did the hardware Just install Easy Peasy Ubuntu Netbook Remix (http://www.geteasypeasy.com/) and then it just works. Both Cambridge Silicon Radio and Broadcom work with no configuration.