The Netbook Newbie's Guide to Linux
Back to the Bluez
With the kernel modules in place, we're still not quite ready to rock and roll. First, we'll have to ensure that the new modules are added to the system module inventory, a text file called modules.dep. This list makes sure that any module that requires the presence of other modules to work properly gets everything it needs at load time.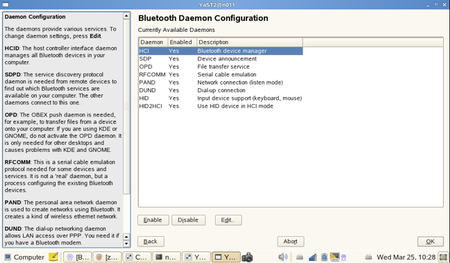 Yast's Advanced Daemon Configuration shows that the MSI Wind comes with Bluetooth software capability already installed
Managing this string of dependencies is a complex business, but happily you don't have to edit modules.dep manually - just run a tool dedicated to this task:
depmod
...to update modules.dep automatically. And now we're ready to load our new modules into the kernel and get Bluetooth running. The official Acer patch has already installed the script to do this in /etc/init.d, among all the other boot-time scripts. So we just run:
/etc/init.d/bluetooth start
...and if all's well the blue light on the dongle should start flashing. Bluetooth is working.
Now is probably the time to reboot, to make sure the Bluetooth init script is doing its job properly - loading the relevant modules and installing a Bluetooth symbol among the other notification icons down at the bottom right of the screen: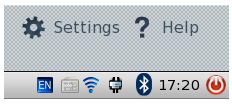 When you scan from your phone for Bluetooth devices, you should see a new one with a name like localhost-0. Right clicking on the AA1's new Bluetooth notification icon brings up a dialogue that allows you to change this to something more informative.
MSI Wind owners don't have to do any of this - Bluez is already installed and ready to run, even if there's no on-board Bluetooth hardware.
Sponsored: Minds Mastering Machines - Call for papers now open