Advent AIO-100
When a netbook's screen is just too darn small...
The 18.4in display stretches to an unexpectedly high resolution of 1680 x 945 pixels - for a widescreen TV-style 16:9 aspect ration - and it's a decent screen to work on. The glossy finish means bright colours, but at the expense of increased reflectivity - bright light sources behind you are very noticeable.
The biggest problem with the display is its lack of adjustability - or rather lack of adjustability in directions you might actually want. The hinge that connects the support to the screen allows it to rotate a full 90°, but the hinge at the base stops somewhere around 45°. As a result, you can fold the screen completely - and uselessly - flat horizontally on top of the base but when it's vertical the highest you can raise it from the desk is 95mm. Unless you perch it on a pile of books, you'll almost certainly end up peering down upon it, which isn't ergonomically sound if you're using the computer for an extended period of time. There's also no adjustment left or right, short of turning the entire machine in one direction or another.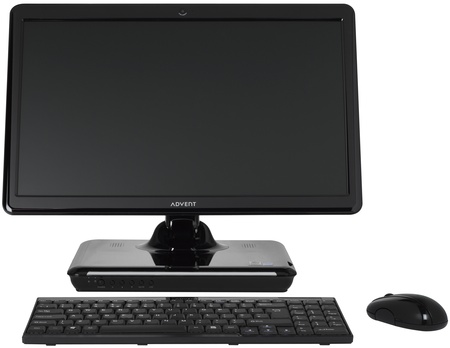 A good screen for movies - shame the GPU's not up to it
Performance scores are pretty much what you'd expect from a machine of this specification. Compared to the Asus Eee Box - or indeed any netbook - its results weren't bad at all. It has the graphics resolution support necessary to run the full PCMark05 test and its score of 1579 puts it ahead of the Asus although it's no match for an Intel Core 2-equipped machine. It also managed to stumble through 3DMark06 successfully, although with a score of 123 it's not really equipped for modern-day gaming.
On the multimedia side of things, the AIO-1000 has sufficient grunt for DVD playback, capable of showing a movie without dropping any frames. Standard-definition H.264 files proved more of a problem, with some dropped frames during playback. Stepping up to 720p H.264 there were so many dropped frames the result was completely unwatchable.
Verdict
The Advent AIO-100 isn't suitable for those that sit in front of a PC for most of the day, but to be fair that's not it's intended audience. If you just want to do a little bit of lightweight web surfing and the odd bit of email, it's more than up to the job.
Compared to a netbook, it packs a much larger screen, a proper keyboard and a mouse, so if portability isn't an issue it's the more sensible choice. At £450 it's a little on the pricey side, though, for what you get. If it was under the £400 mark it'd be much more appealing, but even still it's still worth considering if your computing needs are modest. ®
More Desktop PC Reviews...
| | | | |
| --- | --- | --- | --- |
| Shuttle XPC SP45H7 | Apple Mac Mini | Dell Studio Hybrid | Asus Eee Box |
Sponsored: Minds Mastering Machines - Call for papers now open

Advent AIO-100
The Advent AIO-100 ties netbook hardware to an 18.4in screen making it a nice, if pricey, secondary machine.