Sony W-series Walkman MP3 player
Eat this, Shuffle
Though the controls are a little on the small side, after some practice they fall to hand easily enough, especially the volume rocker that has clearly distinguishable dimples at either end.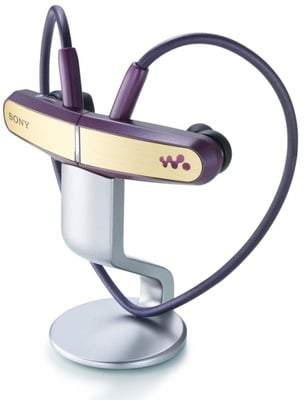 Sony bundles a handy stand
Being a Sony, the W's format support isn't exactly extensive. So you if you want to play anything other than MP3 or non-DRM WMA and AAC files, you're flat out of luck and should probably buy a SanDisk Sansa Clip.
So, to the nitty-gritty. Is the W202 comfortable to wear and what does it sound like?
Perhaps a little surprisingly, it is actually very comfortable once you have chosen the right size rubber buds from the three sets supplied. Just slip the neckband around your head, pop the earphones in and bingo. It's altogether a lot less time time-consuming and boggling to put into place than many Bluetooth earpieces we've come across.
The W weighs only 35g, so you can sometimes just about forget you're even wearing the player, while the flexible neck band sits close enough to your noggin to allow you to lean back in a chair without the player moving. The longest we wore the player for was a little over three hours while on a flight and at the end we were pleasantly free of any sort of earache.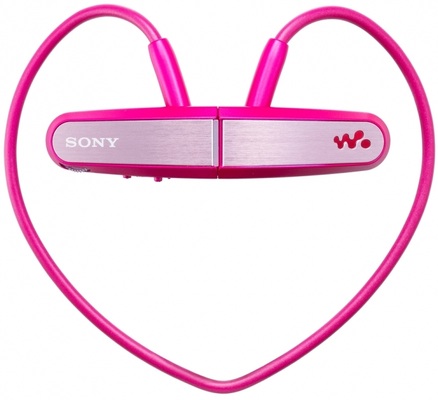 Next year's Valentine's Day gift?
To see how well the player stayed in position in day-to-day use we took it on a quick jog up and down Regent Street early one morning. Not only did it not shake loose during our run but it even stayed firmly in place when we tripped over a curb edge and ended up face down on the pavement in a tangle of limbs and expletives. The things we do in the name of a comprehensive product test...
Sponsored: Minds Mastering Machines - Call for papers now open