Wagoner: EVillain or EVictor?
Will former General Motors CEO be remembered for Volt or EV1?
That's not to say the EV1 wasn't a lost opportunity - it was. As Larry Burns, head of GM's R&D division said in a Newsweek interview in 2007: "If we could turn back the hands of time we could have had the Chevy Volt 10 years earlier."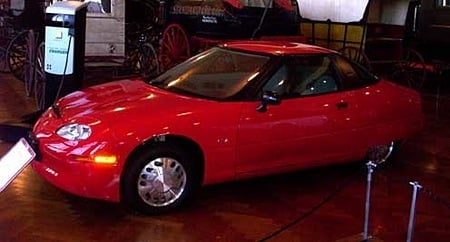 Axed: GM's EV1
Wagoner's status as a hate figure for the environmentalists was further reinforced by the Hummer project, which many would hold up as symbolic of the basic problem with GM: it has spent the last decade building simple, cheap-to-manufacture trucks and SUVs rather than innovating. In the process, it surrendered the market for well made, technically advanced, modern family cars to the likes of Honda and Toyota.
When oil prices rose and fuel efficiency became an issue with car buyers, GM was stuck with a not undeserved reputation for making crude vehicles with poor economy.
Since then GM has been piling all its eggs into the Volt basket with almost indecent haste, making it currently the only model GM has spared from cuts in its development budget.
But the Volt was too little and too late to save Wagoner. The Auto Task Force's report to the President contained a damming statement:
"GM is at least one generation behind Toyota on advanced, 'green' power train development. In an attempt to leapfrog Toyota, GM has devoted significant resources to the Chevy Volt. While the Volt holds promise, it is currently projected to be much more expensive than its gasoline-fuelled peers and will likely need substantial reductions in manufacturing cost in order to become commercially viable."
It's hard to argue with that conclusion. We think the Volt is a great idea and have our fingers crossed that come 2012, we'll be able to take a right-hand drive Opel Ampera for a spin here in the UK. But a car to save a company the size of General Motor's it is not.
That's the problem with scrabbling to play catch up and touting a model that you have admitted won't make a dime in profit as the reason for the tax payer to dig deep and keep you in business. And it's not the only the problem from the Oval Office's perspective.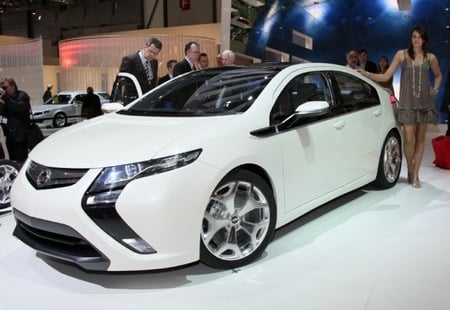 Ampera: Europe's Volt
In 2008, GM sold 177,000 Chevrolet Malibus in the US. Now the Malibu is a pretty good car, albeit one based on an ageing platform developed by Opel in Europe that is also used as the basis for both the Saab 9-3 and Opel Vectra. But in the same market and during the same time period, Honda sold 372,000 Accords while Toyota shifted over 436,000 Camrys.
That's GM's real problem - and Wagoner's real legacy – a major lack of competitiveness in the mass market. Until the company gets that sorted, betting the family farm on the Volt looks less like clever long-term planning and more like green-washed desperation. ®
Sponsored: Minds Mastering Machines - Call for papers now open