Crucial N125 64GB SSD
Expand your netbook's storage capacity
Replacing the SSDs is a doddle, though the Crucial unit is unformatted so owners of Windows XP netbooks won't see the drive once they reboot their machine. It'll be listed in Device Manager, but not in My Computer.
To prepare the drive for use, you'll need to open the Control Panels window and double-click on Administrator Tools. Among these is a utility called Disk Management, and here you get a list of connected drives, including the new one, probably as 'Disk 1'. Right-click on its name and select 'Initialize Disk'. A Wizard will guide you through the partitioning and formatting process. When you're done, the N125 will appear in My Computer as D:
Iometer 2007.07.27 Results
Asus Eee PC 900 Stock SSD 8GB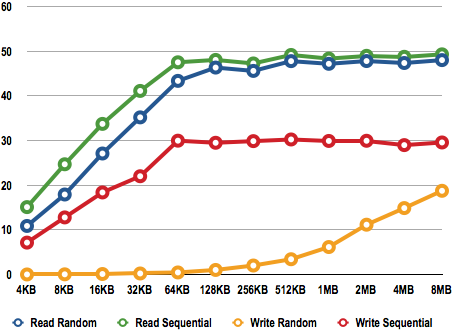 Access speeds in Megabytes per Second (MB/s)
That's the case with the Eee 900's secondary drive. If the upgrade replaces the main SSD, you'll need to boot up an installer or recovery disc with an external optical drive, initialise the new SSD then re-install your OS and apps.
We ran PCMark05's HDD benchmark on both the original SDD and the Crucial and saw no real difference between the two: they scored 987 and 980, respectively - less than a percentage point difference between the two.
Iometer 2007.07.27 Results
Crucial N125 64GB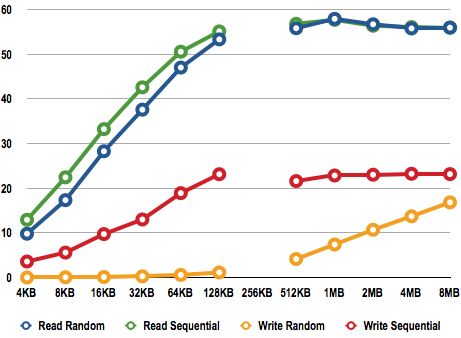 Access speeds in Megabytes per Second (MB/s)
That they scored effectively the same is not entirely surprising. Both drives use a controller made by Phison and multi-level cell (MLC) Flash technology, which is inherently slower than the single-level cell (SLC) design used for the Eee's main SSD. But it's also cheaper, which is why the 64GB upgrade costs just £123. The 32GB SSD will set you back £66.
We also ran Iometer 2006.07.27 on the two SSDs, running from 4KB data block up to 8MB. The original Asus SSD's average random read and random write speeds were 38.7MB/s and 4.9MB/s, respectively - its sequential read and write speeds averages 41.8MB/s and 24.9MB/s.
Sponsored: Minds Mastering Machines - Call for papers now open