Pure Flip Mino HD
The YouTuber's favourite goes HD at last
Video is captured in MP4 format using the H.264 codec at 30f/s and with a bit-rate of 9.0Mb/s. The camcorder shows up as an ordinary USB storage device when you connect it to a computer, so it's easy to transfer your video files on to a Mac or PC and then onto H.264-compatible devices such as an iPod or Sony Playstation Portable.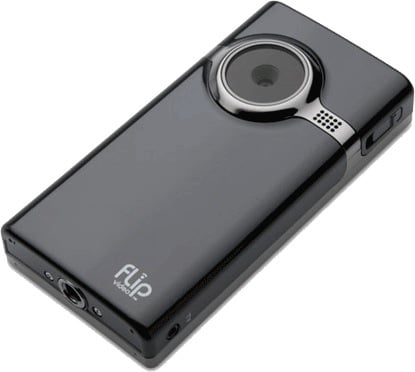 YOUR_CAPTION_HERE
However, you'll probably need to scale your HD clips down to lower resolution to use on an iPod and, at the risk of labouring the point, the Zi6 allows you to switch between HD and VGA resolutions to save you time. It also has a 'snapshot' option for taking still photos, which the Flip Mino HD could do with as well.
There's a program called FlipShare pre-installed on the camcorder's internal memory, which can quickly be copied onto your computer. This runs on both Macs and PCs and provides very basic editing features for trimming video clips and uploading them to sites such as YouTube. It's no replacement for a proper editing program, but it does the trick as far as YouTube is concerned.

Verdict
We've always admired the simplicity of the Flip range, and the compact design and improved image quality of the Flip Mino HD do make it a very attractive option for anyone that wants a high-quality camcorder that they can just slip into their pocket when they leave home. However, with the price now rising to £170, it's disappointing that the Flip Mino HD still has such a limited range of features.
Options such as a close-up mode, snap-shot feature or a memory card slot would make it more versatile without compromising its ease of use. The Flip Mino HD is definitely a welcome addition to the Flip range, but its rivals are catching up now and there are other pocket-sized camcorders that can give it a good run for its money. ®
More Camcorder Reviews...
| | | |
| --- | --- | --- |
| Ten of the Best... Pocket Camcorders | Flip Ultra vs Creative Vado | Flip Ultra |

Pure Flip Mino HD
The best Flip yet, but it's missing a few features that would help to justify the increased price.