Wacky DS gadget sounds playing-too-long warning
Tells if you're too close, too
If you're the sort of person who worries that sitting too close to the will strain your eyes, you're likely to be concerned that playing too long on your Ninendo DS will likewise addle your optics.
So here's a new Japanese console gadget designed to make sure that doesn't happen.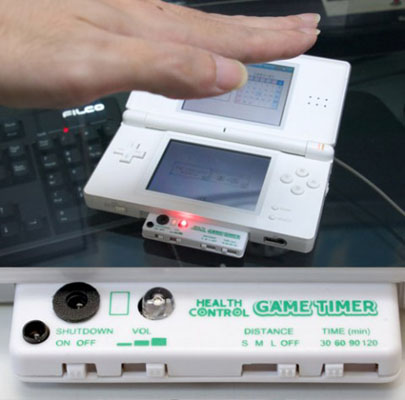 Health Control Gametimer warns you when your sitting too close
Health Control Gametimer slots into your DS Lite and starts flashing and bleeping if it senses that your face is too close to the console.
Three settings – short, medium and long - tell the gadget how close your face gets to the console before the alarm sounds.
The device can also be programmed to automatically shut the handheld down after 30, 60, 90 or 120 minutes of gameplay.
So if you really have no self-control whatsoever and need a gadget to tell you how and when to stop playing, then the Health Control Gametimer is available online now. ®
Sponsored: Minds Mastering Machines - Call for papers now open