Apple Mac Pro
Goes like the proverbial off a shovel
But while the Mac Pro's technical specifications are top-of-the-range, our suite of benchmark tests reveal the dilemma faced by potential buyers. The Mac Pro has the same GT 120 graphics card as the iMac we reviewed last month, and produces the same 120f/s when running Doom 3. That's because Doom 3 doesn't take full advantage of the twin quad-core Xeons in the Mac Pro.
The same is true of our Xbench test suite, which actually reports the twin 2.26GHz processors in the Mac Pro as running slower than the single 2.93GHz processor in the iMac. Time for an update, Xbench developers.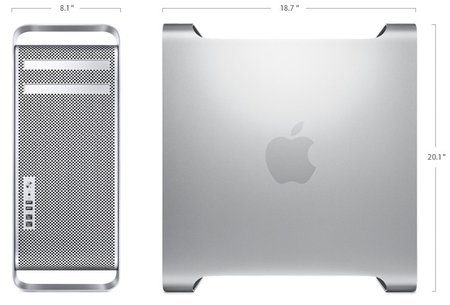 Not small
However, the multi-processor aware GeekBench indicates that the Mac Pro is around three times faster than the 2.93GHz dual-core iMac in terms of raw processor power. In other words, the twin processors with their eight processing cores - or 16 'virtual' cores if you take hyper-threading into account - provide very little benefit unless you're running 64-bit software that is capable of fully exploiting all that multi-core hardware.
Creative professionals have always been the most loyal of Apple's customers, yet they've taken something of a back seat in the last couple of years as Apple has increasingly focused on consumer-oriented gadgets such as the all-conquering iPod and iPhone. However, this Nehalem-powered upgrade should restore the faith of Apple's hardcore creative users and have them eager to upgrade their existing Mac Pro machines.
Verdict
The Mac Pro might seem expensive to most of us, but it's not going to faze people who have paid the best part of £1500 for high-end applications such as Adobe's Creative Suite or Apple's own Final Cut Server. Those users will jump at the chance to get their hands on a workstation as powerful as this. The only real question for those users is whether to go the whole hog with this eight-core, twin-Xeon model, or to opt for the less-expensive quad-core, single-Xeon version.
If you're running applications such as the Final Cut video editor, which is capable of juggling multiple audio and video streams simultaneously, then this twin-Xeon Mac Pro will be a godsend. However, lesser mortals who just want to run Photoshop really quickly will probably manage perfectly well with the single-Xeon version, or even one of the faster iMac models. ®
More Mac Reviews...
| | | | |
| --- | --- | --- | --- |
| Mac Mini | iMac | MacBook Pro 17in | MacBook Pro 15in (Late 2008) |
Sponsored: Minds Mastering Machines - Call for papers now open

Apple Mac Pro
It's expensive, but the Mac Pro's price is justified by the raw power of the Xeon processor.