Apple Mac Pro
Goes like the proverbial off a shovel
What the Mac Pro doesn't include is a monitor, so just remember that you'll need to budget for a separate screen if you don't already have one that you can use. It does come with a keyboard and mouse, though, and we were relieved to see that it arrived with Apple's latest full-size keyboard, rather than the Barbie 'board that came with our iMac.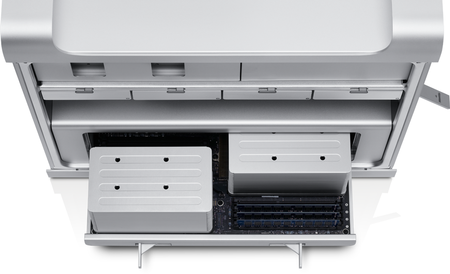 Slide out the motherboard to populate the eight memory slots
But while there are few obvious changes on the outside of the unit, there's a lot going on inside. Flick a latch on the back of the unit and the side panel pops open to reveal a redesigned and tidier internal set-up than before, while a second latch on the base of the unit slides the motherboard outwards for easy access.
The inside of the Mac Pro is immaculate – there's not a cable in sight, and the Ram and PCIe slots sit neatly in front of you waiting for upgrades to be installed. The sheer size of the heatsink on the Xeon chip is a bit alarming, but the heatsink never became too hot to touch while we were testing it, and the cooling fan in the base of the unit hums away quietly without making too much noise at all.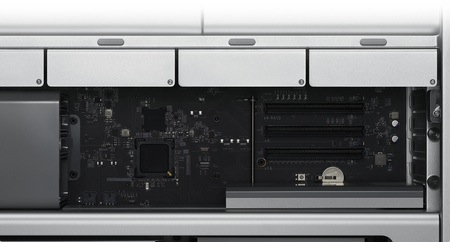 The Pro has a very 'clean' interior
The enormous heatsink also points to the most important change in the new Mac Pro. As the name implies, this machine has always been the powerhouse of the Mac range, aimed at professional users in fields such as video-editing and 3D graphics. Those users will have paid a small fortune for their existing Mac Pro machines, so Apple has to give them more than just a tweaked graphics card if it's going to persuade them to upgrade to this new model. Fortunately, it's got something pretty convincing to offer, in the form of the Nehalem-class Xeon processor – the workstation counterpart of the desktop-oriented Core i7 processor that we had hoped (in vain) to see in the new iMac.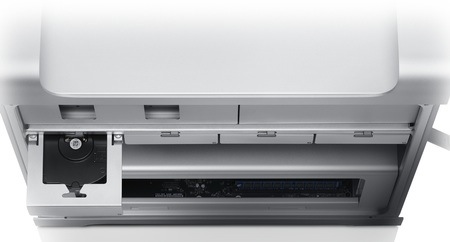 The four 3.5in drive bays are easy to fill
Like the i7, the new Xeon connects directlt to the system's memory, which means that the processor can run full throttle without being hampered by the traditional bottleneck of the frontside bus. The processor also supports hyper-threading, which means that the quad-core Xeon effectively acts like an eight-core processor.
Sponsored: Minds Mastering Machines - Call for papers now open