Apple seeks to patent movement, vibration and pleasure
Shape-shifting scrolling
Apple is investigating new user-interface ideas, including motion-based function selection and multi-layered interface elements that change their appearance during use.
Two patents published Thursday by the US Patent and Trademark office give a glimpse into some of the interface thinking going on in Cupertino - and possibly hint at capabilities of future iPhones and the look-and-feel of upcoming versions of Mac OS X.
Both of the applications were originally filed in October 2007, but are only now being made public. The first, "Movement-based interfaces for personal media device," describes how a handheld's functions could be controlled by motion sensing performed by an internal "position, orientation, or movement (POM) sensor."
The second, "Varying user interface element based on movement," describes how a layered graphical-interface element such as a scroll bar could change its appearance in response to a user moving it.
The first of the two filings details a way to control a handheld device such as an iPhone or iPod without needing to look at its display.
One example given is that of a runner wanting to change a tune on her iPod without having to take her eyes off her path and run into a tree. Instead of risking breaking her nose, she could merely grasp her iPod - which would tell it to awaken its POM and ready it for a command - then move it in a predetermined pattern that would be translated into the "skip to next song" request.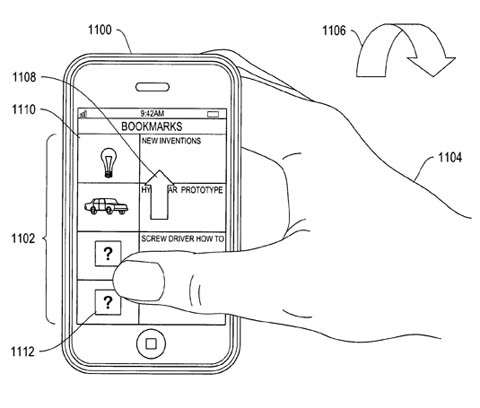 Rotate your iPhone to scroll through lists
Movement-based commands could be used to control a variety of functions, including launching or closing apps, selecting or de-selecting features, changing settings, making or ending phone calls, or - in a hint of future iPhone features - "initiating or ending an audio or video recording session."
As usual in an Apple patent filing, a wide net is cast when it comes to defining components. The aforementioned POM, for example, "may include, without limitation, an accelerometer, a gyroscope, a light sensor, an infrared (IR) sensor, proximity sensor, capacitive proximity sensor, acoustic sensor, sonic or sonar sensor, radar sensor, image sensor, video sensor, global positional system (GPS) detector, RF detector, RF or acoustic doppler detector, video sensor, compass, magnetometer, or other like environment sensor".
That about wraps it up, now, doesn't it?
In addition to POM-based input, the filing also describes how feedback could be provided to the user through vibration patterns, which would be useful when a command doesn't trigger audible changes such as a skipping from one tune to another.
The second of the two filings centers on what it refers to as providing a "more aesthetically pleasing" GUI.
That pleasure is to be induced by a set of graphics layers that define a GUI element's background color, shape, alpha-channel transparency, and patterns that could all change in response to a user's movement of the element.
For example, a scroll bar could change its appearance while being moved in such as way as to indicate the direction in which it is being moved. Although the filing focuses to a large degree on scroll bars, it also discusses windows, buttons, scroll bars, icons, sliders, tabs, toolbars, "and so on."
In addition to user input, the filing also describes how the same multi-layered system could be used to modify GUI elements based on the time of day, how long the computer has been in use or idle, or in response to any other condition.
Again, in true Apple-patent tradition, the GUI filing doesn't limit itelf to personal-computer displays, but also reaches out to "servers, electronics, media players, game devices, mobile phones, smart phones, email devices, personal digital assistants (PDAs), embedded devices, televisions, other consumer electronic devices, set top boxes, etc."
Although with "electronics" in that list, it's a bit difficult to understand what "etc." might include. ®
Sponsored: Minds Mastering Machines - Call for papers now open