Motorola Aura
Worth the £1250 asking price?
The circular screen is the phone's centrepiece, and as promised, it's a stunner. Unlike the V70, this isn't a circular screen with a rectangular viewing panel in the middle – it goes all the way to the edge of its 40mm, 480-pixel diameter and is covered by a slightly raised grade 1, 62-carat sapphire crystal lens, which Motorola says is one of the most scratch-resistant materials on the planet.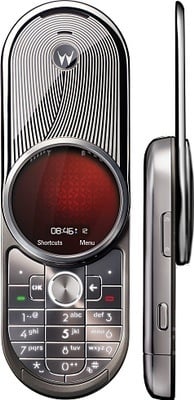 Timepiece inspired?
And it needs to be, since this is a screen that demands to be seen – even the supplied leather carry pouch leaves the screen exposed for maximum look-at-me-ness. Classic watches from the likes of Patek Philippe and Cartier are clearly the inspiration for the look, and the 16m-colour screen features a range of alternative watch faces for when the screen is in repose, from classic chronograph to up-to-the-minute digital displays. It comes with a microfibre cleaning cloth too, for regular buffing.
A sideways press to the front of the phone allows the face to swivel to the left in a 180° turn. Motorola makes a lot of the swivel mechanism, even to the extent of showing off the precision-built internal cogs it relies on through a window on the rear of the handset. It's certainly smooth, and feels sturdier than Nokia's style-conscious 7373, which had a similar action but without the fuss. Motorola claims it will be just as smooth at the 100,000th opening as it is on the first, and while we haven't had time to test that yet, if it's true, it might well be worth paying a bit more for.
The keypad is aluminium and looks similar to the flush metallic design of the Razr series. It's just as awkward to use too - even though the keys are reasonably well spaced, we still found our thumb skidding across them to make frequent wrong presses, especially when using the little OK button next to the small circular navpad. Sure, it looks classically minimalist, but did it really have to be so fiddly?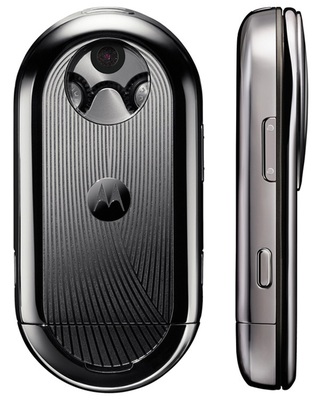 The 2Mp camera's not up to much
With all this quality casework and gorgeous screen, we could almost forgive the lack of 3G or Wi-Fi, and the fact that we can only get WAP access to the internet. But it really could have done with a decent camera, if only because pictures look great as wallpapers through the elliptical screen lens. But the 2Mp fixed-focus model with no flash is pretty much incapable of taking any pic that will show off the screen in the way it deserves. Maximum resolution is 1600 x 1200 pixels but you'll need excellent light, virtually no movement and the 4x digital zoom disabled if you want to avoid grainy shots.
Sponsored: Minds Mastering Machines - Call for papers now open