Intel 'Nehalem' Xeon 5500 series
Breathtaking performance
Intel sent us an S5520SC motherboard - estimated price £450 - with a pair of W5580s. That's jolly nice of the chip giant as the new CPUs have an official price of $1554 each in batches of 1000 which is about £1200 per CPU. That's the thick end of three grand for two processors and a motherboard. We didn't get a pair of CPU coolers in the package which would usually pose a problem, but the new Xeons use the same LGA1366 socket as Core i7 so you can employ regular desktop coolers in your Xeon 5500 workstation. No doubt there will also be low profile wind-tunnel coolers for rack-mounted servers with the new CPUs.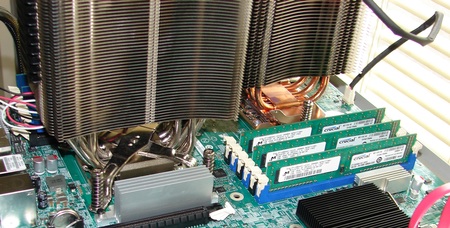 Intel's S5520SC: dare we say it: an uninspiring mobo?
The chipset on the S5520SC motherboard is an Intel 5520 - aka 'Tylersburg'. When we reviewed Core i7 we said: "In addition to the X58 chipset, we noted that the Intel INF driver also applies to chipset models 5520 and 5550 so it seems that there are more Nehalem chipsets in the works." That's the 5520 accounted for so we can only guess that the 5550 chipset will support 5500 Xeons in a four-way configuration.
The major changes from the Core 2 technology in 5400 Xeons to the new 5500 models are the adoption of QuickPath Interface (QPI) and the integrated DDR 3 memory controller, which has moved from the chipset to the CPU core. This means that one of the biggest jobs for Tylersburg is to supply PCI Express and it does this in spades, with six lanes of original PCIe and 36 lanes of PCIe 2.0 for graphics. We have no doubt that Xeon motherboards will appear from Asus, SuperMicro and Tyan with four graphics slots and full support for SLI as well as CrossFire.
The S5520SC motherboard has six DDR 3 memory slots for each of the two sockets and it did a solid job for us. But it's an uninspiring motherboard for a reviewer working with a new processor. The twin graphics slots support CrossFire but not SLI, the Bios doesn't have any overclocking features and some of the more funky features, such as the ServerEngines SM4210 KVM chip, played no part in the proceedings.
It may seem unfair for us to accuse a workstation motherboard of being dull but we almost inevitably regard the new Xeons and 5520 chipset as the natural successor to Skulltrail.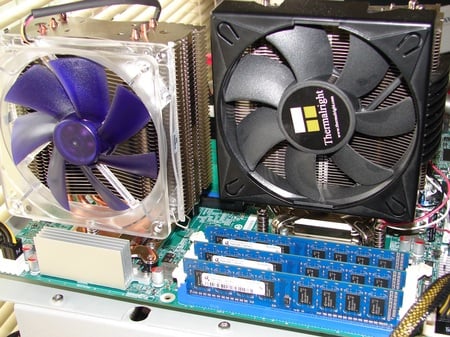 Nehalem has its fans
Skulltrail joined two processors with plenty of PCI Express and a choice of CrossFire or SLI to deliver what you might term 'an ultimate gaming experience' provided you could put up with the racket from all the cooling fans and the heat from the FB-DIMM memory.
Sponsored: Minds Mastering Machines - Call for papers now open