Of course, the choice of software is critical and we note that Apple lists four apps to show the merits of its new Mac Pro. These are Maxwell Render 1.7.1, Modo 302, Cinebench 10.1 and RealFlow 4.3.8.0123, so we downloaded the demo of Cinebench 10 and ran the CPU benchmarks. The figures for a single CPU render show that the new Xeon architecture has the edge over the Skulltrail to the tune of 12 per cent and in a multiple CPU render the gap jumps to 26 per cent.
Cinebench 10 Results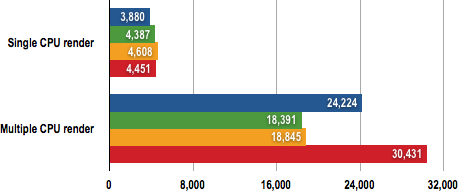 Longer bars are better

This leap in performance would doubtless also be observed in the Maxwell Render, Modo 302 and RealFlow, just as Apple claims. It's noteworthy that the rather aged POV-Ray (now on Beta 30) had exactly the same performance on Xeon 5500 as it did on Skulltrail.
That was the point where our opinion about Xeon 5500 changed from mild scepticism to an air of deep wonder.
By the end of our time with the Xeons, we were completely won over and are full of praise for every aspect of their performance. They deliver the goods in terms of raw computing power, DDR 3 memory bandwidth, SSE 4.2 instructions, Turbo dynamic overclocking and low power usage.
Power Draw Results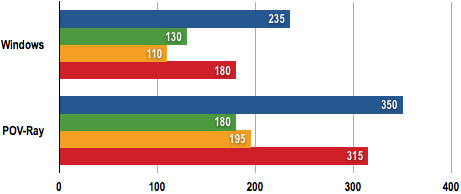 Power draw in Watts (W)
Throughout our testing the Xeon W5580s were amazingly cool and quiet, and the two CPU coolers barely reached 30°C.
Verdict
The new Nehalem Xeons deliver a level of multi-threaded performance that is breathtaking. And that pretty much describes the price too. ®
More CPU Reviews...
| | | | |
| --- | --- | --- | --- |
| Intel Core i7 | AMD Phenom II Socket AM3 | VIA Nano | AMD Phenom II Socket AM2+ |

Intel 'Nehalem' Xeon 5500 series
Intel's 'Nehalem' technology delivers the goods in the new Xeon.
COMMENTS
benchmarks
how about php/webserver tasks and database tasks vs a similar spec xeon 5400.
@ "Not desktop"
Odd. The MacPro, containing a pair of these mofos, looks a lot like a desktop to me.
All we need to do is get shot of that 'orrible OSX...
Pounds, dollars
Is the X5550 really £958 and not $958? :)
Steve because he shipped them 1st.
Impressive test results
http://www.finextra.com/fullstory.asp?id=19858
Ummm FAIL
So, you run a bunch of tests that
1) Can't actually test the performance of the kit
2) Is not actually relevant to the intended uses of the kit
3) Despite points 1 and 2, declare the performance as breathtaking.
If you MUST do video compression testing on multi-core CPU's, then at least endeavour to use software that, you know, can utilise multiple cores.
DVDRIP on linux springs to mind.