Intel 'Nehalem' Xeon 5500 series
Breathtaking performance
Review Intel's new Xeon 5500 series uses the chip giant's 'Nehalem' architecture to effectively put a pair of Core i7 CPUs on a workstation motherboard.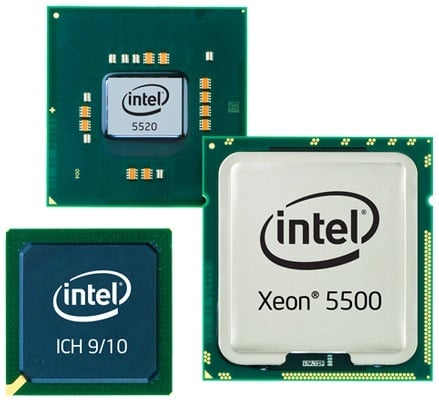 Intel's Xeon 5500: scorcher
That news should come as a pleasant surprise, but of course Apple ruined our fun when it launched its new Mac Pro a couple of weeks ago, which appears to be based on the new chips. And, try as we might, we can't think of another company that would so wantonly shred an Intel NDA without so much as a blush.
The speeds and feeds of the new Xeons cover a total of nine models, although we hear there will be other variants including dual-core and low-voltage models. There are five mainstream E5500 CPUs with a TDP of 80W and clock speeds that start at 2GHz and go up to 2.53GHz. Three X5500 models have a TDP of 95W, starting with the X5550 at 2.66GHz which makes it the equivalent of the Core i7 920. The X5560 runs at 2.8GHz and the X5570 runs at 2.93GHz, just like the Core i7 940.
At the top of the tree we have the Xeon W5580 with a clock speed of 3.2GHz and a TDP of 130W which is the equivalent of the Core i7 965 Extreme. Clock speed is a moving target with Nehalem as Turbo mode varies the speed of the CPU dynamically depending on heat, power draw and CPU load. It's quite likely that your 3.2GHz Core i7 965 Extreme or Xeon W5580 will run up to 3.6GHz when the going gets tough.
Intel has also announced a single-socket Xeon 3500 which is nothing more than a rebadged Core i7.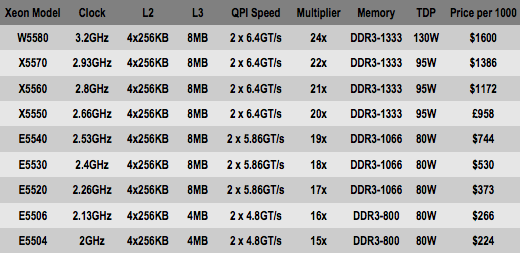 COMMENTS
benchmarks
how about php/webserver tasks and database tasks vs a similar spec xeon 5400.
@ "Not desktop"
Odd. The MacPro, containing a pair of these mofos, looks a lot like a desktop to me.
All we need to do is get shot of that 'orrible OSX...
Pounds, dollars
Is the X5550 really £958 and not $958? :)
Steve because he shipped them 1st.
Impressive test results
http://www.finextra.com/fullstory.asp?id=19858
Ummm FAIL
So, you run a bunch of tests that
1) Can't actually test the performance of the kit
2) Is not actually relevant to the intended uses of the kit
3) Despite points 1 and 2, declare the performance as breathtaking.
If you MUST do video compression testing on multi-core CPU's, then at least endeavour to use software that, you know, can utilise multiple cores.
DVDRIP on linux springs to mind.