Soothsayers slash IT spending forecasts
Worse than the dot.com bust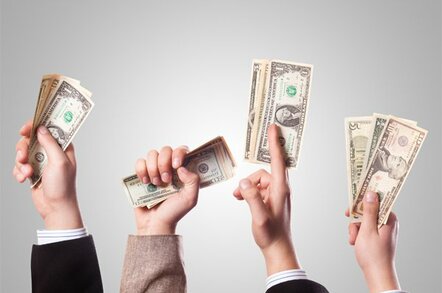 None of us want to hear about a decline in IT spending, but that is tough. This is an economic meltdown, and IT spending seems hell bent on declining this year, despite projection after projection showing spending would stay above that negative territory. We had better get used to the word "decline" for a while.
The analysts at Gartner and Forrester Research each put out their own forecasts today - Gartner did global IT spending numbers, and Forrester rushed out figures for U.S. spending in advance of a teleconference it is hosting later this week. Neither forecast is good news, but it could be worse. And it could even be worse than they think now before 2009 is over, if the history of 2008 and 2009 IT spending projections is any guide. (Not that I think it is and not that most of us can do a better job prognosticating).
"IT organizations worldwide are being asked to trim budgets, and consumers are cutting back on discretionary spending," said Richard Gordon, the head of global forecasting at Gartner in a statement announcing Gartner's forecasts. "The speed and severity of the response by businesses and consumers alike to these economic circumstances will result in an IT market slowdown in 2009 that will be worse than the 2.1 percent decline in IT spending in 2001 when the Internet investment bubble burst."
Gartner now says that it expects that global IT spending will drop by 3.8 per cent in 2009, to $3.23 trillion. Spending on hardware is expected to fall by a staggering 14.9 per cent to $324.3 billion. Software spending, which was supposed to be a relatively bright spot, is now seen as growing only three-tenths of a per cent, to $222.6 billion in 2009, and IT services is expected to decline by 1.7 per cent to $796.1 billion. Telecom spending, which is the largest part of the IT budget, is going to decline by 2.9 per cent to $1.89 trillion.
The report issued by Gartner today says that while government stimulus spending might help in the long term, it "will not be able to offset this bleak near-term outlook." And Gartner adds that until the global financial markets settle down a bit, global gross domestic product and its IT spending component "is unlikely to strengthen."
And consequently, IT shops will be slowing down the rate at which they replace hardware and software and the ability for IT vendors to move into new markets will be curtailed. New sales are expected to hit emerging economies hardest, and replacement activity will be muted in the more mature economies. (This is easy enough to guess).
Companies will be looking to cut budgets by moving to lower-cost alternatives and will extend the lifecycle of existing products - and I think this will be the case despite the substantial total cost of ownership and return on investment argument arguments that IT vendors will be able to credibly make for getting rid of old hardware and software.
"IT vendors should plan for business and consumer spending to be curtailed during 2009 and for a slow, prolonged recovery during 2010," Gordon added. "At the same time, they should be alert to opportunities to help buyers with cutting costs, complying with new government regulations and taking best advantage of government rescue plans."
Over at Forrester, Andrew Bartels, the vice president and principal analyst who does IT spending forecasts, says his current projection for U.S. IT spending for 2009 is for a 3.1 per cent decline, which is pretty dramatic shift from the 1.6 per cent spending increase Forrester was making back in December 2008 for the coming year. And compared to the rosy 10 per cent spending growth Forrester was projecting for 2009 back in February 2008 - three months after the recession in the United States started - this latest spending forecast is a huge shift. This drop in IT spending is more dramatic than projected GDP declines in the US, which are for a 2.2 per cent decline in GDP this year according to a panel of economists polled by The Economist.
Back in December, Bartels said that things could get worse and warned people to prepare two 2009 IT budgets - one for bad, and the other for worse.
"Unfortunately, that bleaker outlook now looks more likely than the relatively mild and relatively short recession we had assumed in December 2008," Bartels wrote in his report. This is the fourth time Forrester has revised its quarterly IT spending projections for the U.S. market. And we still have two quarters to go for forecasting and one to wrap it up in December 2009.
The culprit behind all this? The credit crunch, says Bartels, which is making it difficult for companies to raise capital and is therefore making them pay higher interest rates on loans and compelling them to hoard cash like crazy. This behavior, of course, causes the economy to contract further and everyone to get even more jumpy. Bartels is now expecting the recession in the U.S. to continue through the third quarter, with a "weak recovery" in the fourth quarter.
Here's how the Forrester IT spending numbers in the U.S. crumble. The company says that overall IT spending (which does not include telecom expenditures) in the States will fall by 3.1 per cent, to $537 billion. Spending on computers and peripheral equipment in the U.S. will drop by 6.7 per cent to $99 billion, on communications equipment will fall by 7.7 per cent to $111 billion, and on software will decline by four-tenths of a per cent to $166 billion. IT consulting services will see 1.9 per cent decline to $86 billion in the U.S., while IT outsourcing will see a 2.1 per cent rise to $76 billion.
Forrester is feeling somewhat optimistic about IT spending in the States recovering in 2010, with a rise of 6.6 per cent to $573 billion, which assumes that hardware spending comes in at somewhere between levels set in 2006 and 2007. This is perhaps not a valid assumption, but there will only be one way to be sure: live through 2010 and count the money. ®
Sponsored: Minds Mastering Machines - Call for papers now open