Aptare goes upgrade crazy
SRM for a brave new virtual server world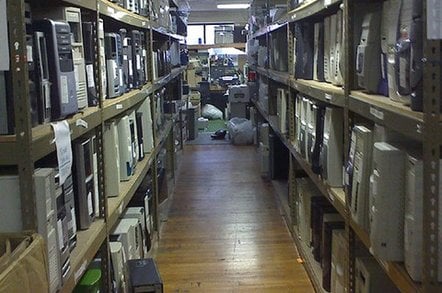 Aptare has upgraded its Storage Resource Management (SRM) products to work better in a virtualised server world.
It says its StorageConsole 7.0 suite gives users greater control of storage resources within VMware virtualised server and NetApp replication environments.
SRM products have struggled to make their mark because multiple heterogeneous servers access networked file and block storage from multiple and heterogeneous suppliers, with inadequate storage activity and control API standardisation, making it all but impossible for one SRM supplier to cover all the storage bases and deliver actionable monitoring dashboards, alerts and reports. Server virtualisation is making that task easier because the server platform reduces to VMware (for the time being) and virtual machine sprawl tends to make inefficient use of storage, increasing the need for better SRM.
Aptare says it provides better tools to manage storage in VMware environments than VMware or individual storage vendors do. The SRM pitch in general is that it is worth buying the product because savings from the more effective use of storage are greater than the SRM tool cost.
Richard Clark, president and CEO of Aptare, said StorageConsole 7.0 gives: "users the capability to easily and cost effectively plan, troubleshoot and fine tune the storage resources used in their VMware deployments."
New features in StorageConsole 7.0 include community-based report development and sharing, policy-based alerting and advanced report filtering.
The StorageConsole Virtualization Manager component tackles VMware sprawl-related problems by allowing storage administrators to see what is happening with storage resources used in virtual environments. It complements VMware's vCenter by enhancing planning, improving performance by enabling users to analyse each VM, correctly tier physical storage and identify and solve potential contention issues or bottlenecks. It can also highlight areas of real storage resource oversubscription and forgotten or under-utilised storage assets.
It initially supports VMware ESX environments, v3.0 or higher, with support planned for Microsoft Hyper-V and Citrix XenServer. It is integrated with the other Aptare StorageConsole products – Backup Manager, Capacity Manager and Replication Manager.
StorageConsole Replication Manager's reporting capabilities allow users to view and monitor tasks, from ensuring that replication policies and service level agreements are being met, to examining the stability of mirrored data on replication volumes. It also gives users the ability to see which storage capacity is necessary for snapshot and mirrored volumes, and which is wasted.
It can be used to examine the impact of moving destination replication volumes to lower-cost tiered storage systems or changing the retention period of these volumes. Chargeback reports can be generated based on replication consumption levels, along with associated costs based on user-defined pricing.
StorageConsole Replication Manager supports NetApp's SnapMirror, SnapVault and FlexClone environments, with plans to expand to other vendor replication products. It integrates with the other StorageConsole products and is available immediately. List price is $9,995 per array, with bundle and suite pricing available.
Storage Console Virtualisation Manager is also available immediately. List price is $1,495 per physical VM server, with bundle and suite pricing again available. ®
Sponsored: Minds Mastering Machines - Call for papers now open