Grey squirrels invade Nutt house
NI woman in sciurine plague ordeal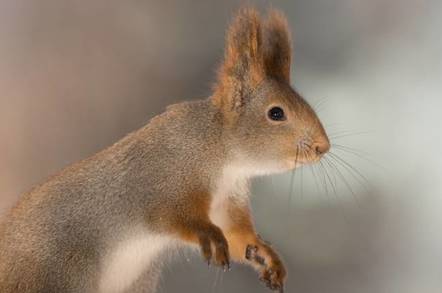 A Northern Ireland woman is on the front line of the ongoing battle against grey squirrel hordes after her house was invaded by massed sciurine forces, the BBC reports.
Oonagh Nutt, of Moira in County Down, explained that the incursion began when advanced squirrel patrols entered her garden from a nearby park. She said: "I thought it was lovely, I called one of them Hazel but then the next thing they'd got into the house."
That was 18 months ago, and since then the creatures have set about trashing Nutt's house. She continued: "They chewed their way through my roof in several places, they tunnel through the cavity walls, they live under the floor boards, they go to the toilet in the attic.
"Up close they are quite frightening - they look like puppy dogs with big hands, they growl and bark at you, they're vicious things. They'll go for you. I have a small child in the house and regularly at night the scratching and chewing and moving about will wake him up."
Nutt has spent "thousands" on attempting to eject her uninvited tenants, including on "squirrel catchers, traps, lights, sonar" and "everything but the kitchen sink". Poison in the roof space and travel routes proved a bad move, since the victims popped their claws inside the cavity walls provoking swarms of flies.
Nutt concluded: "I rang Lisburn City Council three times and have been told in short to go away. They say they're not a pest so there's nothing they can do."
Ian Woods from Grey Squirrel Control explained to the BBC: "Every year it's becoming more and more of a problem around this time of year. People really don't understand the damage they cause."
In Scotland, meanwhile, an anti-grey squirrel alliance earlier this year announced a £1.3m plan to save the native red from their encroaching North American cousins. Top of the agenda is to attempt to control the grey population - estimated at between 200,000 and 300,000. This will "involve killing them", the BBC noted. ®
Bootnote
Thanks to Tam Swann for the heads-up.
Sponsored: Minds Mastering Machines - Call for papers now open