Greenbird sail-car wafts in as future of zero-emission motoring?
Breaks land-speed record too
Leccy Aero Tech So how's this for emissions-free motoring?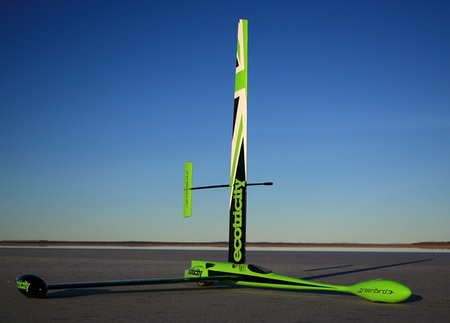 Greenbird: record breaker
Called Greenbird, the hi-tech land yacht is the brainchild of British engineer Richard Jenkins and last week it snapped up the word land-speed record for a wind-powered vehicle at Ivanpah dry lake in Nevada with a top speed of 126.1mph (202.9kph), beating the previous record of 116mph, held by American Bob Schumacher.
The end-product of ten years' work, Greenbird is the fifth vehicle that Jenkins and his team have built in an effort to break the record.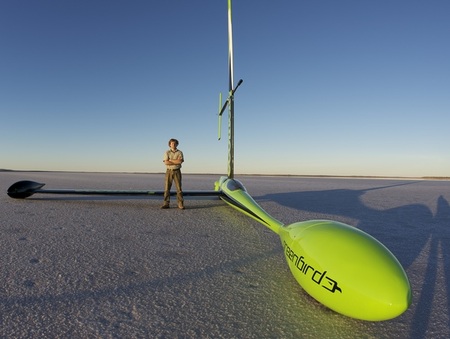 A man and his... er... yacht: Richard Jenkins
Described by the team as a "very high performance sailboat", Greenbird uses a solid wing rather than a sail to generate movement. The design is so efficient that it can apparently travel at up to five times the true wind speed on land.
Made entirely of carbon fibre composites, with the exception of the wing bearings and wheel units, which are made of metal, Greenbird weighs just 600kg, but at full chat Formula 1-style wings provide enough downforce to increase the weight to just over one tonne.
The team hopes to capture the ice-speed record at Canyon Ferry Lake in Montana later this year or in early 2010 using a second version of the Greenbird that moves of skates rather than wheels.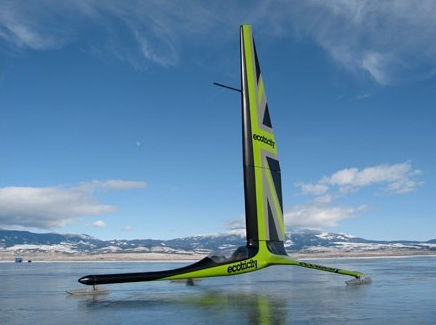 Greenbird on ice
The future of environmentally friendly travel? Only if you live somewhere without bridges. ®
Sponsored: Minds Mastering Machines - Call for papers now open