IBM punts two racks, a blade, and a hybrid thingy
Enterprise avant garde
A closer look
The System x3550 M2 is a 1U rack server that supports dual-core and quad-core Xeon 5500s using the Intel 5520 chipset. The dual-core E5502 running at 1.86 GHz and with 4 MB of Ld cache per core is supported on this machine. The standard quad-core Nehalems - E5540 (2 GHz), E5506 (2.13 GHz), E5520 (2.26 GHz), E5530 (2.4 GHz), and E5540 (2.53 GHz) - are supported on this machine, as are the low-voltage L5520 (2.26 GHz) and the extreme variants (which run hotter), the X5550 (2.66 GHz) and X5570 (2.93 GHz).
All of these quad-core Xeons except the two lowest-speed models have 8 MB of L3 cache on the die (two banks, one for each pair of cores). The others have a single 4 MB L3 cache on the chip. These Nehalem EP chips have thermal design points (TDPs) of 60, 80, or 95 watts.
The x3550 M2 comes with 2 GB of memory standard, and DDR3 DIMMs of 1 GB, 2 GB, 4GB, or 8 GB are supported. Memory runs at either 1.33 GHz or 1.07 GHz. The mobo has eight memory slots per Nehalem processor, for a total of 16 DIMMs and a maximum of 128 GB. But the practical economic maximum (since 8 GB DDR3 memory is still kinda pricey) is probably 64 GB. To help bolster the up-time on this x3550 Nehalem system, IBM offers chipkill scrubbing, and 4 of the 16 DIMM slots can also be used as mirrors of the other DIMMs to enhance the reliability of the system.
The x3550 has six 2.5-inch drive bays and a single 5.25-inch bay that is occupied by a CD-RW/DVD combo drive. The server supports SAS or SATA drives - the usual 10K and 15K RPM suspects in both form factors - for a maximum of 1.8 TB using the 300 GB SATA drives. The motherboard has an integrated ServeRAID disk controller, plus two Gigabit Ethernet ports standard (with room for two more on a daughter card), and two PCI-Express x16 slots (one can be converted to a legacy PCI-X slot if you need to). It comes with a 675-watt power supply (you can go redundant if you want) and six fans.
The System x3650 M2 is basically the same Nehalem server, but it comes in a 2U chassis instead of a 1U box, and therefore. it has room for a dozen 2.5-inch disk drives instead of six. In addition to the 2.5-inch SAS and SATA drives, IBM is supporting a 32 GB or 50 GB SSD disk in the same 2.5-inch form factor in this machine. Presumably, this is the same SSD unit that is optional in the System x3550 M2. Also, customers can opt for configurations with four PCI-Express x8 slots instead of the two x16 slots in the x3550 M2.
The System x3550 M2 and x3650 M2 machines are certified to run Windows Server 2000, Windows Server 2003 R2 (but not yet Windows Server 2008); Red Hat Enterprise Linux 4 and 5; SUSE Linux Enterprise Server 9 and 10 as well as the related Open Enterprise Server with its embedded NetWare 6.5; and SCO UnixWare 7.1.4 and OpenServer 6. VMware's ESX Server 2.5 and 3.0 hypervisors are also certified on the boxes, but oddly enough, not ESX Server 3.5, the most current release.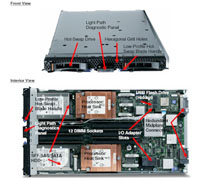 IBM Nehalem blades (Click to Enlarge)
The new HS22 blade server slaps into any of IBM's existing five variants of the BladeCenter chassis. All of the same Nehalem EP processors are supported on this two-socket blade server excepting the very fastest one, the quad-core X5570 running at 2.93 GHz. (Too hot for the blade chassis to handle). The blade, which is also based on Intel's 5520 chipset, uses a mix of different DDR3 memory speeds - 800 MHz, 1.07 GHz, or 1.33 GHz, with the speed used depending on the processor and the memory configuration. (Larger memory configurations require slower memory, so shop carefully and plan ahead).
The HS22 blade has chipkill protection, but does not support memory mirroring like the x3550 M2 and x3650 M2 rack servers above. The blade has a dozen memory slots, and right now, only 1 GB, 2 GB, and 4 GB DDR3 DIMMs are supported (8 GB DIMMs will be coming eventually, says Big Blue). Depending on the configuration, a base HS22 comes with 2 GB or 4 GB of base memory, expandable to a maximum of 96 GB using those 8 GB DIMMs. Of course, these fatter DIMMs are not yet available, so the practical top-end memory capacity on the HS22 is really 48 GB.
This is somewhat problematic given the fact that the blade and server virtualization mix requires lots and lots of memory. This is why Cisco Systems is expected to support at least 384 GB of main memory on its two-socket Nehalem blade servers in its "California" system, announced last week and delivered in June or July.
Sponsored: Minds Mastering Machines - Call for papers now open