Asus slides out first 'optical drive included' Eee
The latest member of the Eee PC family
Keeping up with Asus' ever expanding Eee PC range is getting tricky, especially now the firm has just unveiled the line's first model with an integrated optical drive.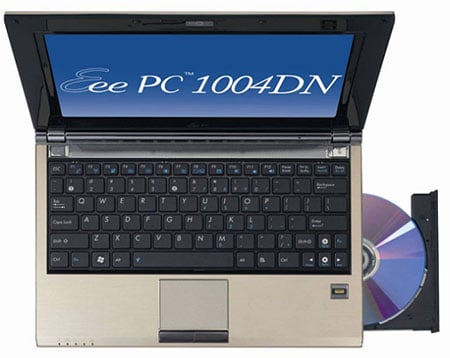 Asus' 1004DN: the first Eee with a built-in optical drive
The 1004DN is fitted with a multi-format DVD writer. Alongside it is an Intel 1.66GHz Atom N280 processor and GN40 chipset, a set-up that's been paired with 1GB of DDR 2 memory. The machine will have a 120GB 1.8in, 4200rpm hard drive inside.
Sporting the same 10in, 1024 x 600 resolution display as many existing Eee PCs, such as the 1002H and 1000HE - reviewed here. The 1004DN's screen also sports a 1.3Mp webcam.
Three USB ports and Bluetooth will be included, while web access will be possible using the machine's 802.11n Wi-Fi connection or Ethernet port.
A biometric reader should help keep your data safe, unless you owe money to any mafia dons.
It weighs in at 1450g and will come with a six-cell battery that, according to Asus, should hold out for almost six hours.
Asus hasn't said when it'll start shipping the Eee 1004DN, or how much it wants for the machine. ®
Asus Netbook Reviews
Eee 1000HE
N10
Eee S101
Eee 901
COMMENTS
Way to go Asus...
...for polluting your own product line and turning netbooks into what is likely to be a short lived fad. Rather than a stand alone category of computer. Manufacturers had already done a good job of destroying the category with ever increasing features and ever increasing prices, only now Asus has destroyed the final differentiating thing. The small case form factor. Nice one Asus, nice one.