Revo Blok
Can a block of wood sound this good?
It was actually all rather inspiring - one member of the Reg Hardware staff having to be physically restrained from yelling "Go on! Go on, White Rider! Gandalf! Gandalf!" out of the office window when Minas Tirith started to play.
Plug a PMP or a netbook into the Blok and use it provide the audio for your video collection, and those small speakers really come into their own, once again providing crystal clarity along with superb definition and articulation.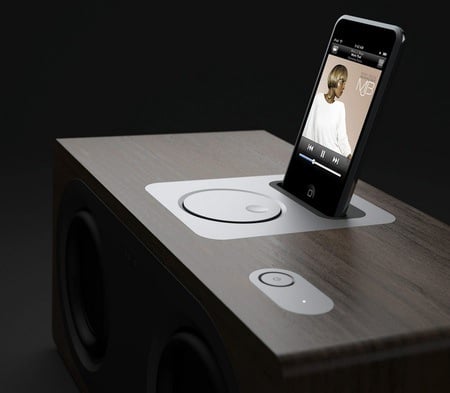 Is your lounge as dark as this?
If the Blok has a drawback, it's the lack of anything in the way of bass or treble adjustment. While we didn't find this to be an issue, some users may prefer a greater degree of control over their sound beyond that provided by their iPod's own EQ settings.
Incidentally, we found the Blok performed best with our iPod's EQ set to 'Off', giving a more natural sound. Like the Altec Lansing Octiv Air we tested recently, the Blok doesn't come with Apple's 'Works With iPhone' certification so you'll need to switch to Flight Mode to avoid any unwanted background interference from the cellular radio.
At £195, the Blok represents solid rather than exceptional value for money. Edifier's Luna5 can be had for a fiver more and, at the end of the day, it produces more volume, better sound quality and has an FM radio on board. But it's a lot bigger and heavier, and not quite as attractive, though admittedly this last is a matter of personal taste.
A word of advice: don't lose the remote - a replacement will set you back £30.
Verdict
Who knew something thing this good was lurking north of Hadrian's Wall? The looks and build quality are superb, the sound is top notch for the size and the remote control unit will provide a talking point at dinner parties. It may lack the absolute audio fidelity of some the bigger and more expensive competition but it 's still a worthy contender. ®
More Speaker Reviews...
| | | | |
| --- | --- | --- | --- |
| Altec Lansing Octiv Air | Intempo InSession | Logic3 Valve80 | Edifier Luna 5 |
Sponsored: Minds Mastering Machines - Call for papers now open

Revo Blok
It's hard to fault this fine-sounding, beautiful-looking and very well made little device. The funky remote control unit is the icing on the cake.